Ramon Enrich is a Spanish painter whose production revolves around an uncluttered, yet powerful staging of space, confronting abstraction and figuration. Such as the Minimalists, from whom he learned and got inspired by, he recreates deserted spaces that are still inhabited with a peculiar atmosphere. Built around geometric shapes, architectural elements are breaking a visual silence, as Ramon Enrich gives a character of monumentality to essential volumes.
LUCCA-P, 2021
"I chose architecture as the main motif of my poetic discourse", he says. Defining himself as an architecture painter, he looks for the simplicity of form and, by making very mysterious and dark lines combined with wide-opened horizons, gives a presence to the emptiness which becomes a central element of the composition.
Emptiness is then rationalized by full and brutal architectural elements created out of a restricted range of shapes. Giving some relief and a touch of irony to an almost metaphysical atmosphere, stairs, ramps, walls and vegetation are all familiar elements that invite the viewer to wander and take us on a journey that is more psychological than physical.
"I want to let something hidden be seen, allowing inexplicable connections as I am looking for things that keep the mystery, resembling closed boxes that no one knows what's in them, but anyone can imagine."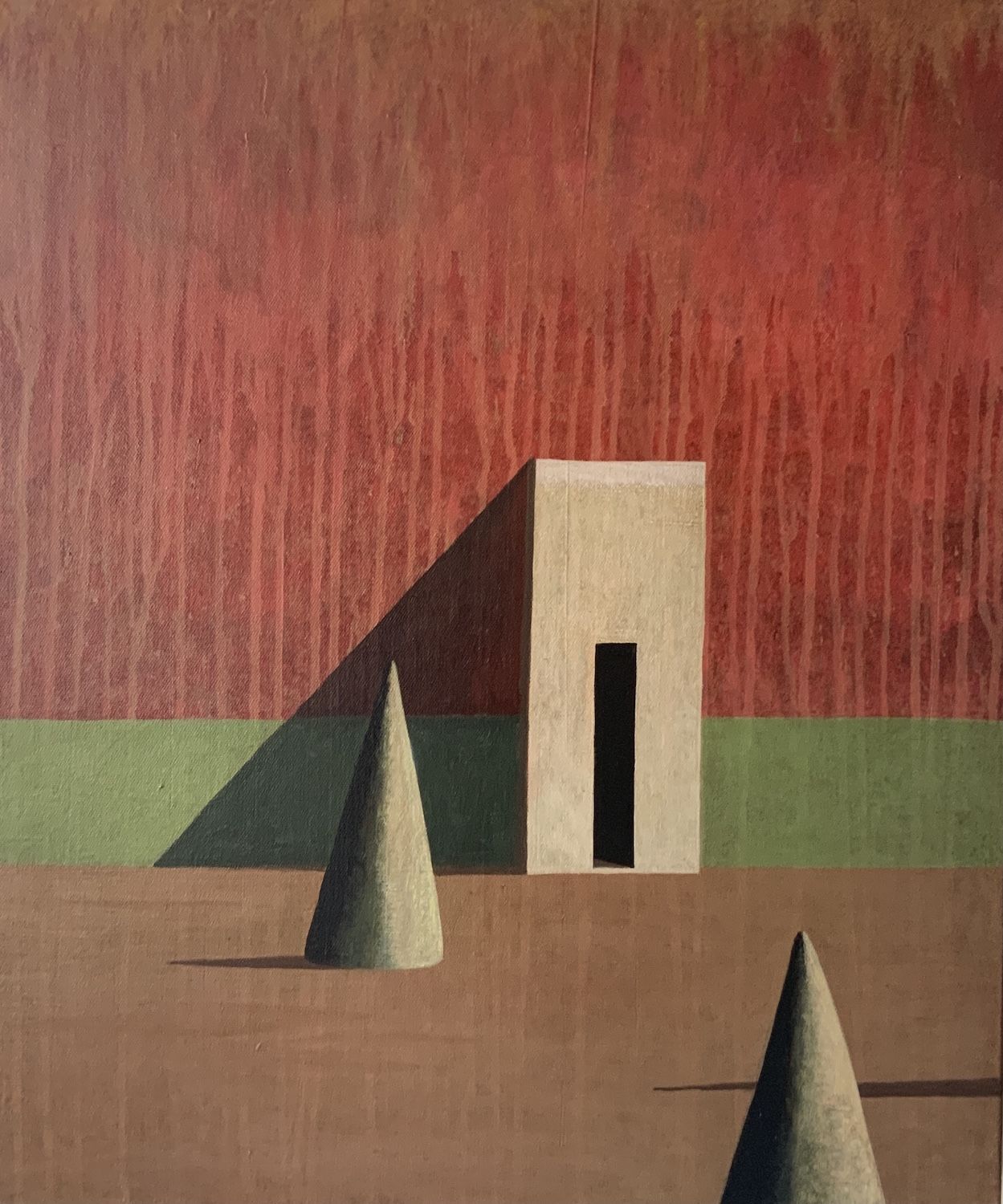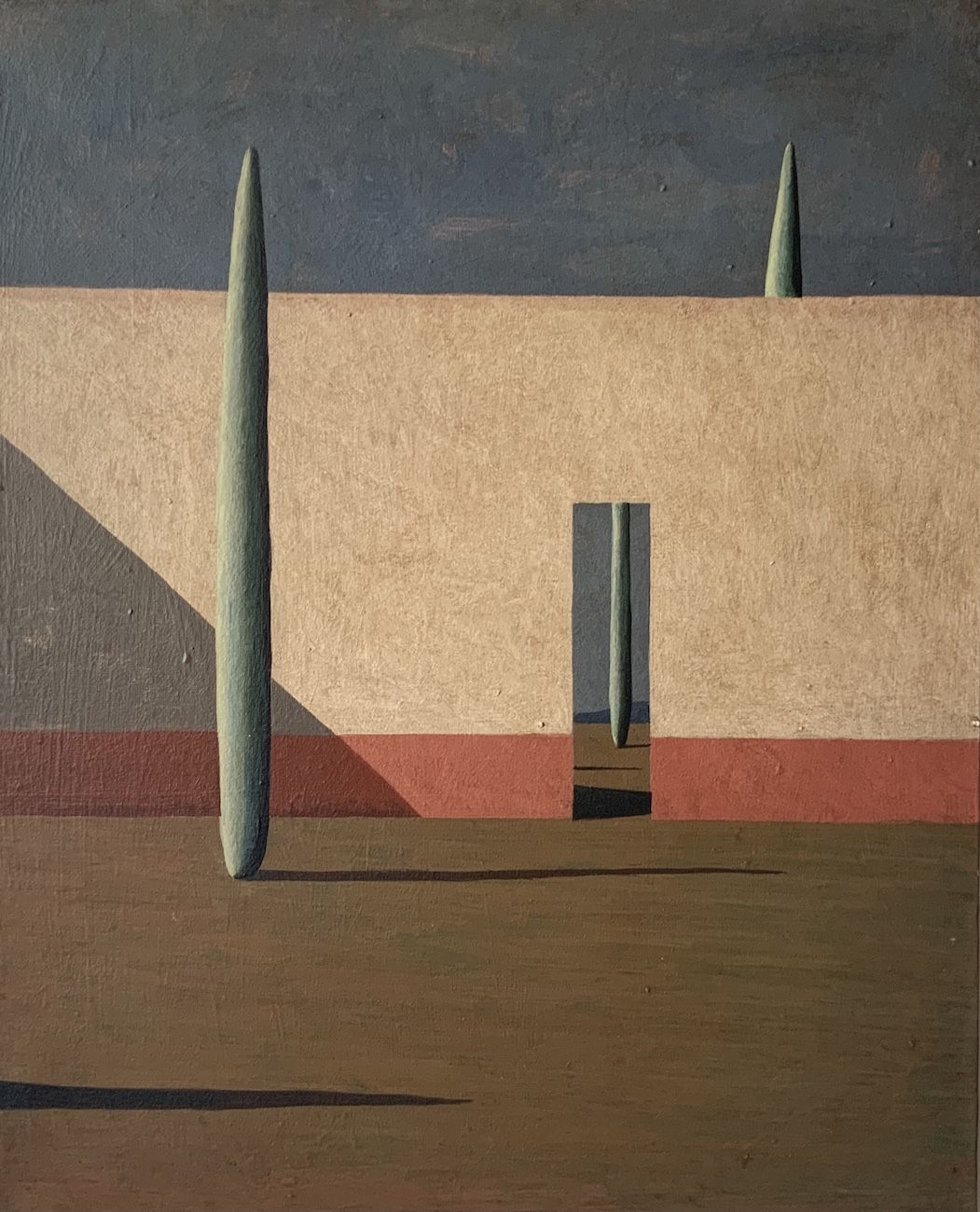 ACC, 2021                                                       DGW, 2021
Initiating every composition on a grid above which he places the different volumes and the objects, Ramon Enrich synthesizes architecture and space, and works in a theatrical conception with a real sense of staging. Abrupt lines are the foundation of a perspective work that can be dual. The perspectives of Ramon Enrich's works is either a bird's eye view allowing to seize the immensity of space surrounding the buildings, or a frontal point of view featuring an obstructed horizon yet suggested by some elements of the compositions such as apertures and doors.
Yet very elaborate, Ramon Enrich's creative process leaves room to intuition, as he confides to be sometimes guided by the necessary way volumes reshape their spatial environment. His intuition sometimes leads him to superimposes the different compositions, following a dynamic leading to the final result.
"A lot of times when I layer a painting on top of another that I don't like, it works well, because it feels like the old painting still guides me and conveys a sense of energy to the new one. "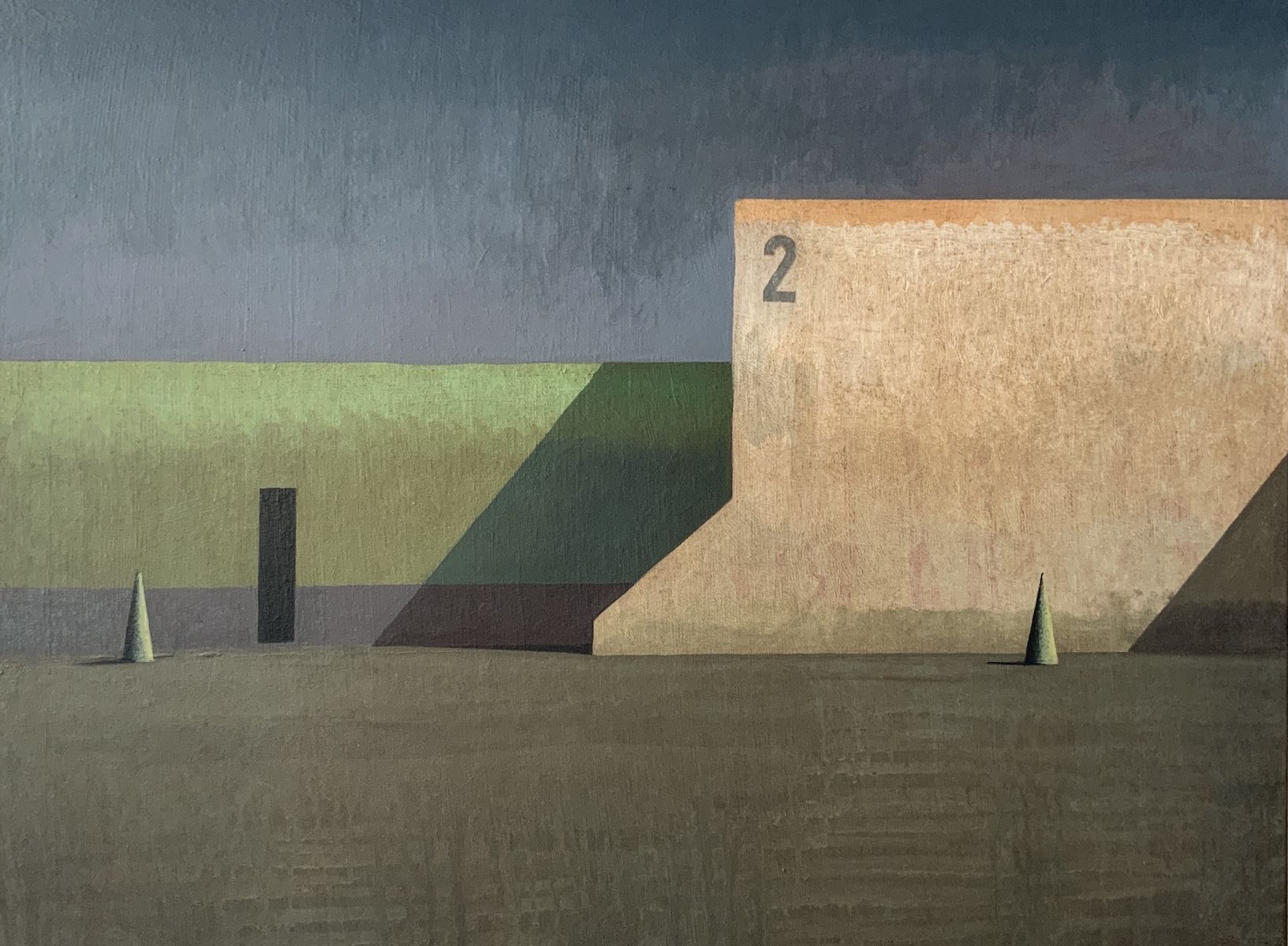 BLUE 2, 2021
Ramon Enrich's technique is extended to a genuine research with color also relying on superimposition and confrontation of shades. Qualified as "pure shapes", the essence of his objects is determined by their flattened-color nature that contributes to the staging process.
After he finished studying in Barcelona Fine Arts school in the 1980s, Ramon Enrich visited his references in the world of painting, looking for an example for how to organize life as an artist especially with Donald Judd or David Hockney whose influences not only show in his paintings, but also in his ability to properly be a painter and exhibit and export his works internationally since more than twenty-five years.