Geometric sculptures
Organic freeform sculptures
Biography
The sculptural work of the English artist Richard Perry is based on form and the material, especially their interaction with space and light. It's an experimental creative process, alternating between intuition and premeditation, guiding him towards the creation of contemporary sculptures with geometric forms or, in his more recent productions, more organic shapes. 
Richard Perry: a multidisciplinary artist  
Richard Perry (1960, Nottingham) lives and works in the East Midlands, England. His passion and leaning towards artistic creation were apparent from childhood, when he would spend his time drawing and painting by attentively observing the natural surroundings and already beginning to reflect on the concepts of colour and perception. He then attended the Polytechnic University of Leeds, graduating in 1981 (Bachelor of Arts, Honours degree in Fine Arts). During his student period, Richard Perry developed an experimental approach along with his classmates, creating large-scale sculptures in situ on college grounds or in the city centre. This gave him experience in working with scale as well as increasing his understanding of their relationship with space and the environment. 
Although he is clearly oriented towards sculpture, the artist still continues to draw and paint. His spontaneous drawings are not preparatory drawings for his sculptures; instead, they tend more towards formalising his visual vocabulary and help him think in a completely free, fluid manner, which isn't always possible with sculpture. Richard Perry reflects on this, saying: "I think I approach my practice from a painter's perspective more than a sculptor's."
Sculptural research based on the material and form
Through sculpting, the artist discovers all 'the joy and magic of materials', including their limits, their potential and their various qualities. For his monumental works for the public space, Richard Perry works with bronze, architectural ceramics, slate, marble and stone. His studio work mainly focuses on stone, as he likes its ability to be transformed by light, as well as the fact that it creates a connection with somewhere other than his studio, such as the stone's place of origin, whether it's close by or further away (Ireland, Italy), depending on the stone he's using – alabaster, marble, limestone, red sandstone, granite. 
"I am carefully attuned to the material and its potential, constantly seeking new possibilities in the process of transforming stone into arresting sculptural forms."
After identifying the stone that best suits the idea he has in mind, he starts work on the form. The planes, lines, surfaces and voids find an elegant, solid balance in the abstract forms that emerge from the artist's imagination. Richard Perry's sculptural forms are inspired by architecture and the built environment, as well as landscapes and natural transformation processes. The geometric language, developed by the contemporary sculptor over the years, is now combined with an organic style, with supple and freer forms. 
Richard Perry doesn't work from a model or drawing, he defines his creation process as the constant battle between premeditation and intuition: "It's a bit like playing a game of chess with yourself, constantly trying to foresee moves and implications. When it stops being a battle, when the sculpture doesn't annoy me anymore, when it has a character of its own and when it surprises me: that's when it's finished."
Exhibitions, public commissions and collections
Richard Perry has exhibited in galleries in the UK, Europe and Asia. His monumental sculptures, made for public commissions, have won him multiple awards. His works are part of institutional collections such as those of the British Museum (London), the EDA Garden Museum (Tokyo) and several local public administrations, as well as appearing in corporate collections such as those by the multinational GlaxoSmithKline and the English health and beauty company Boots.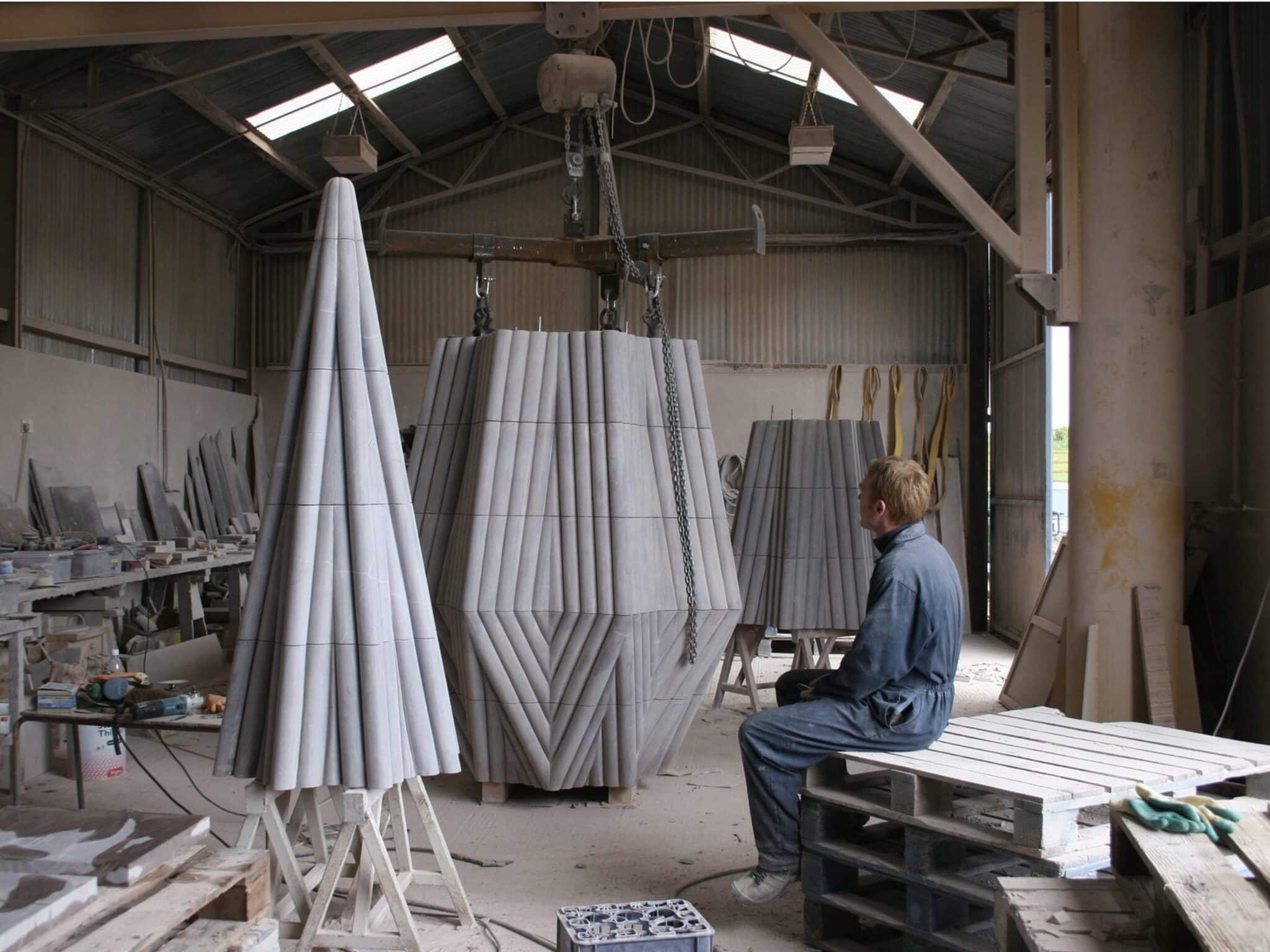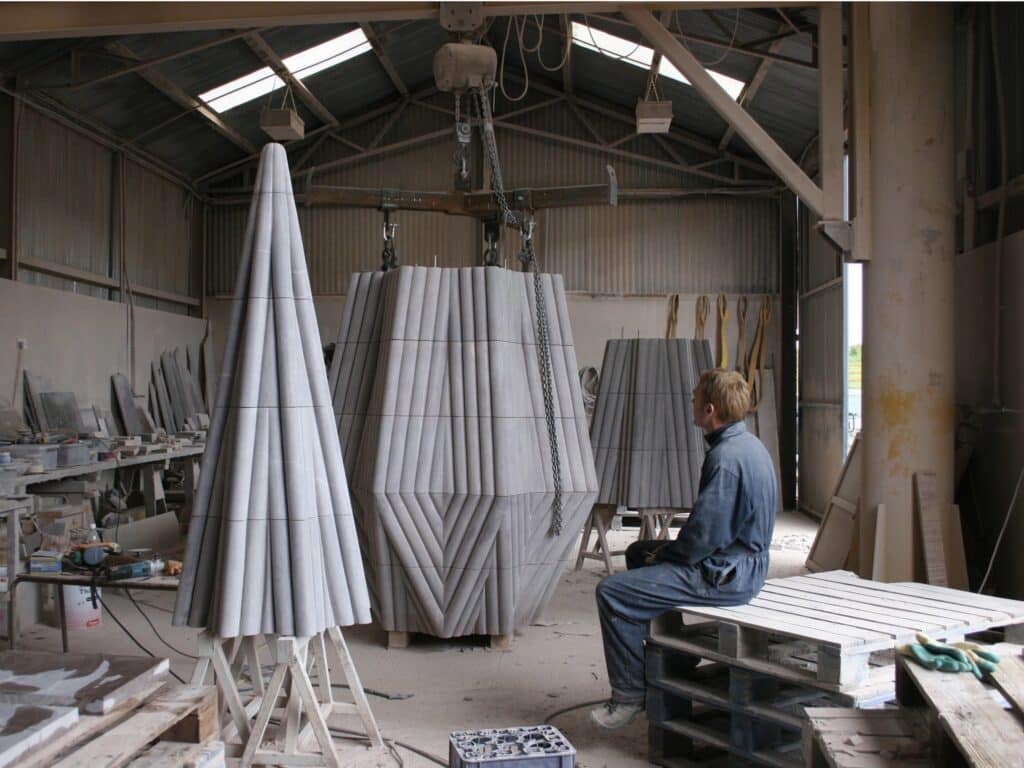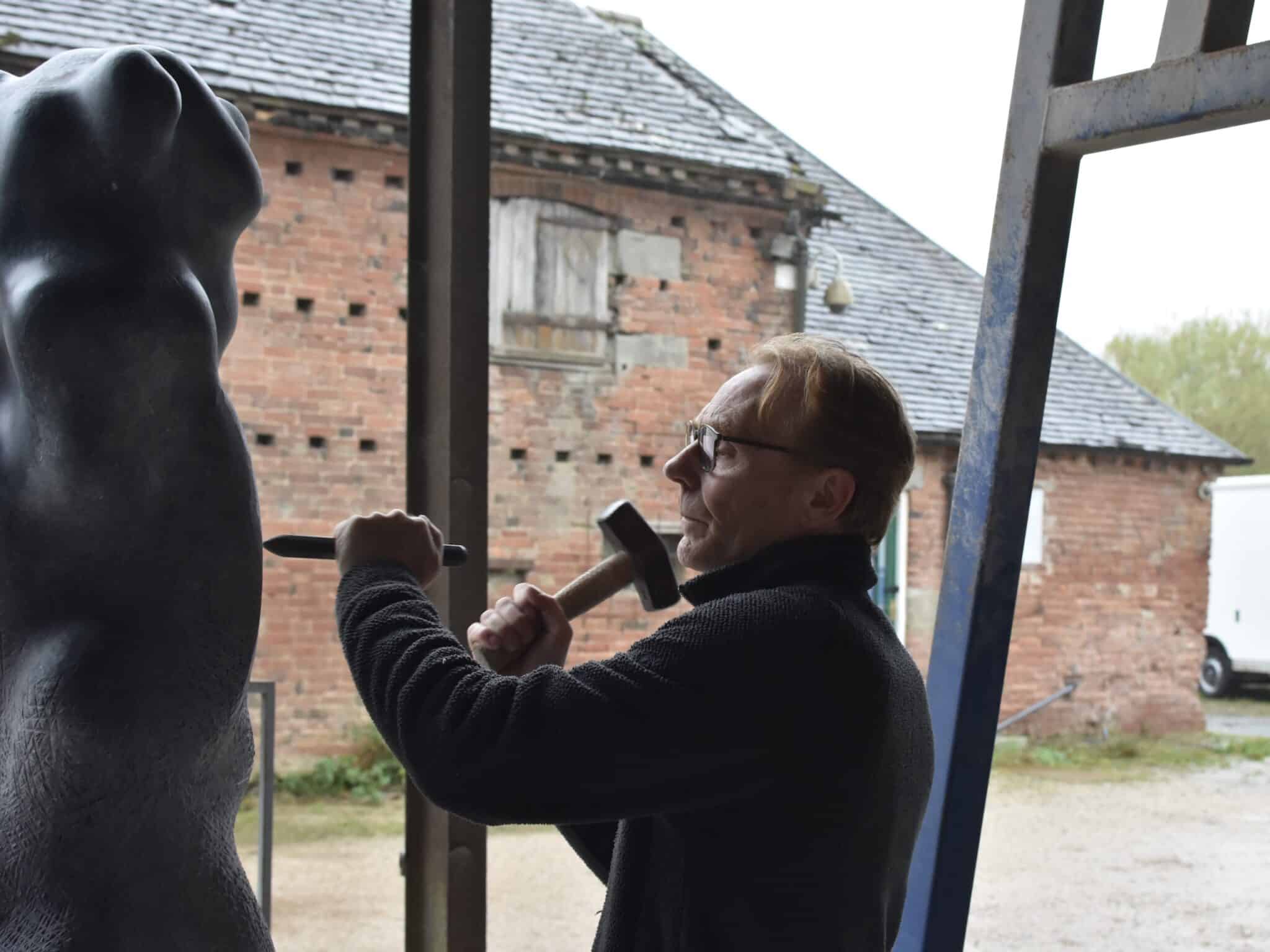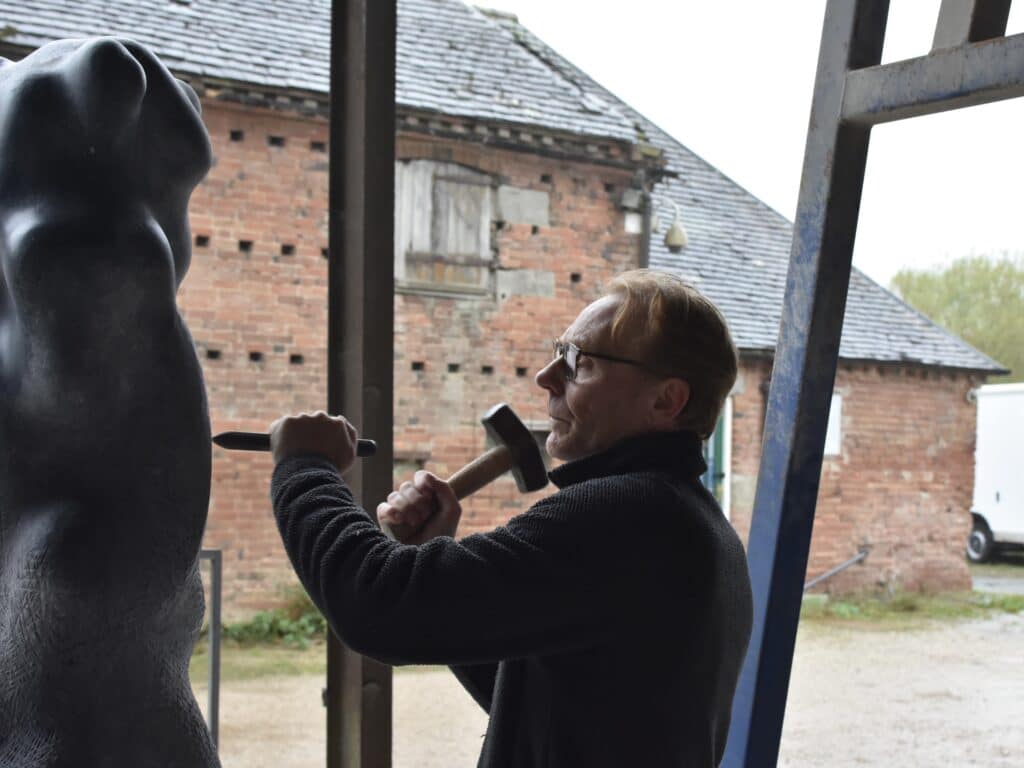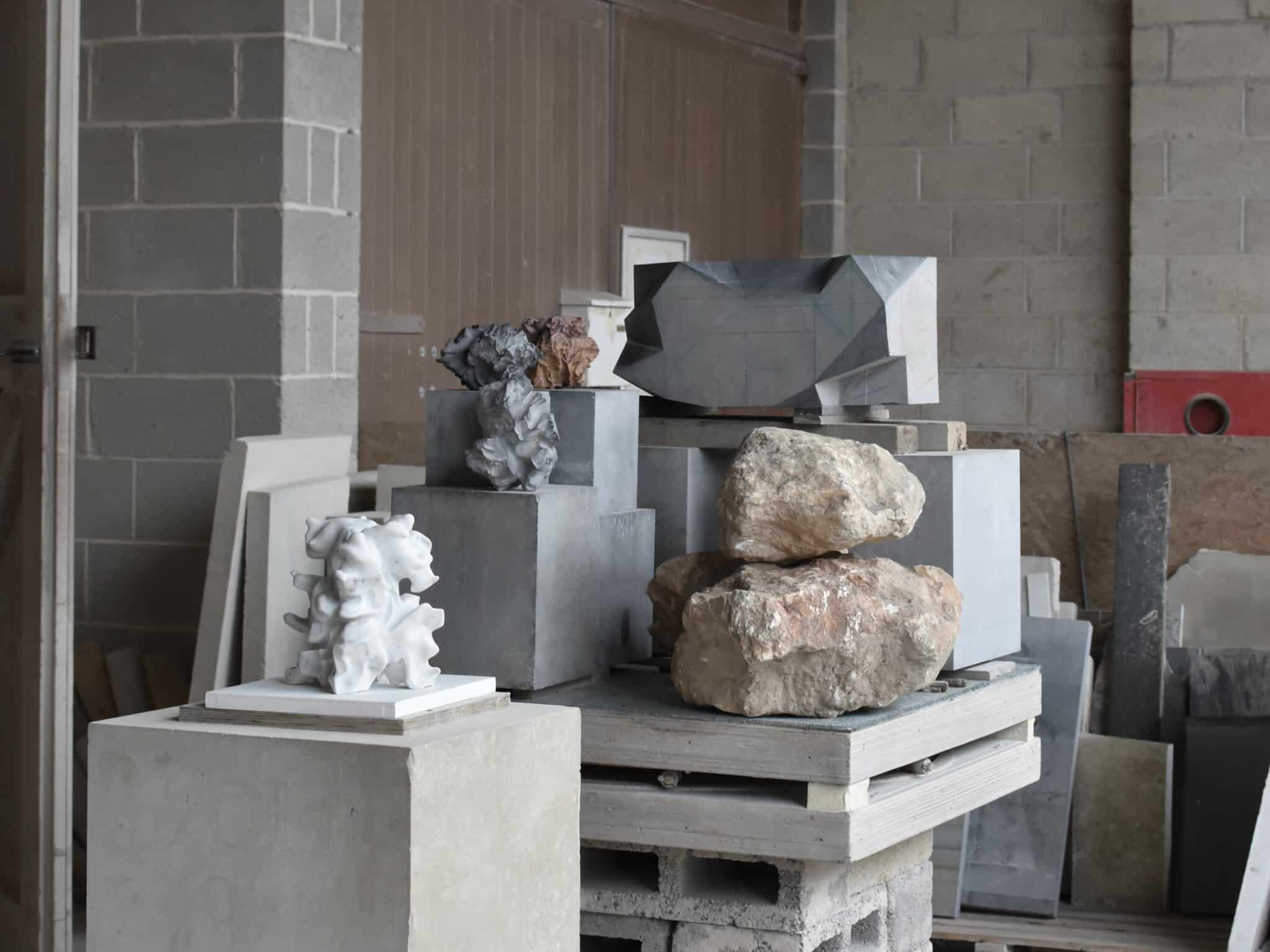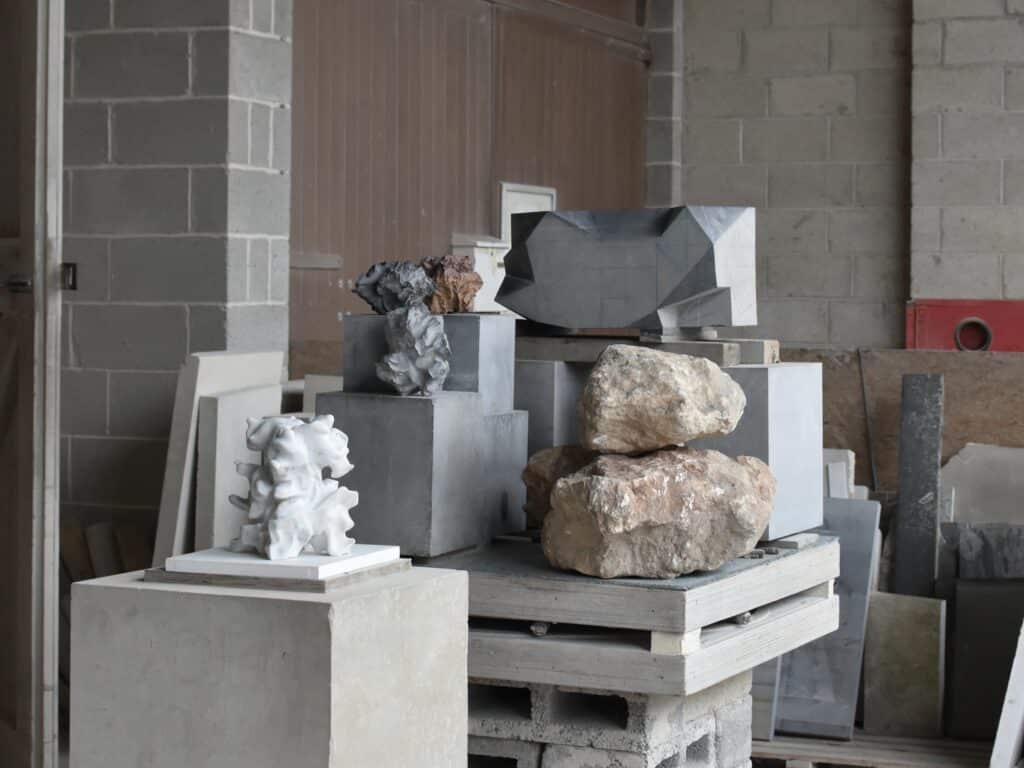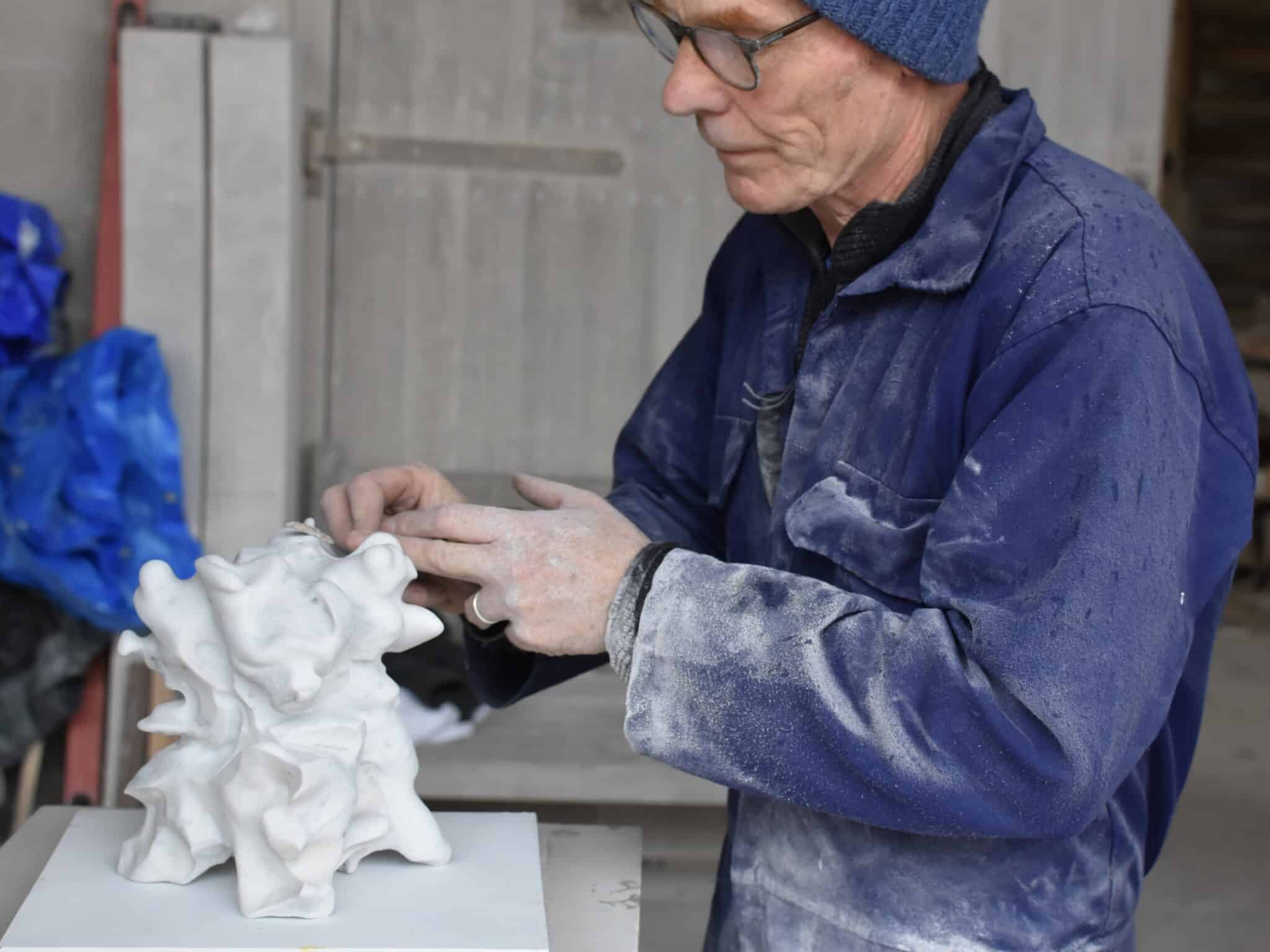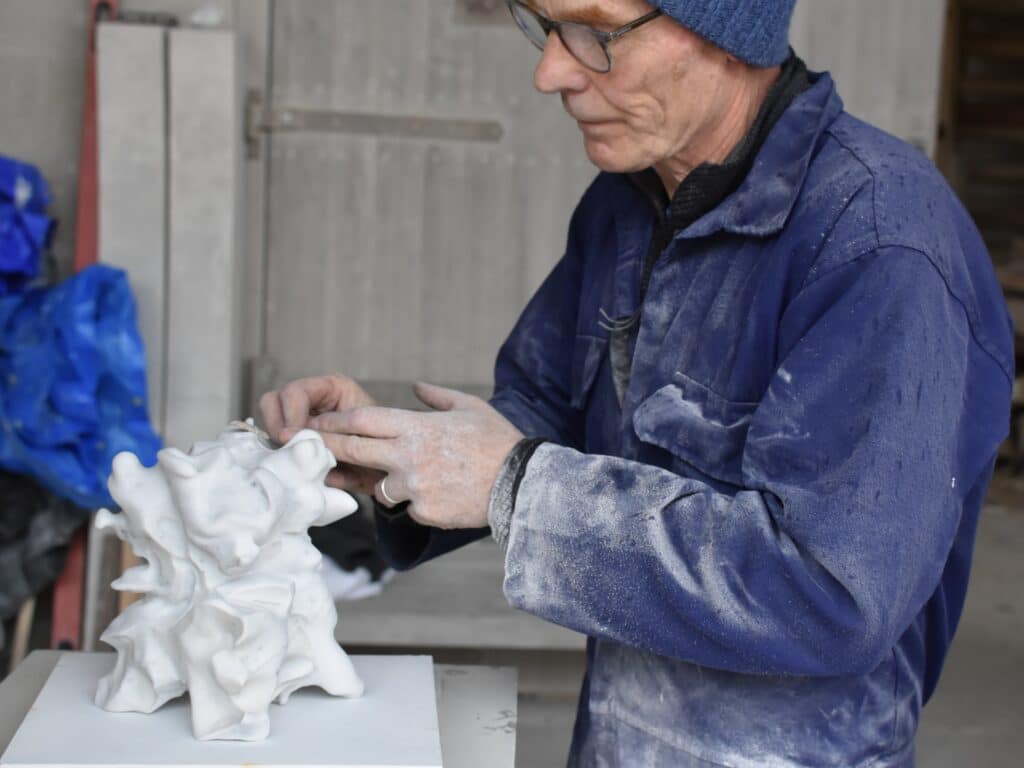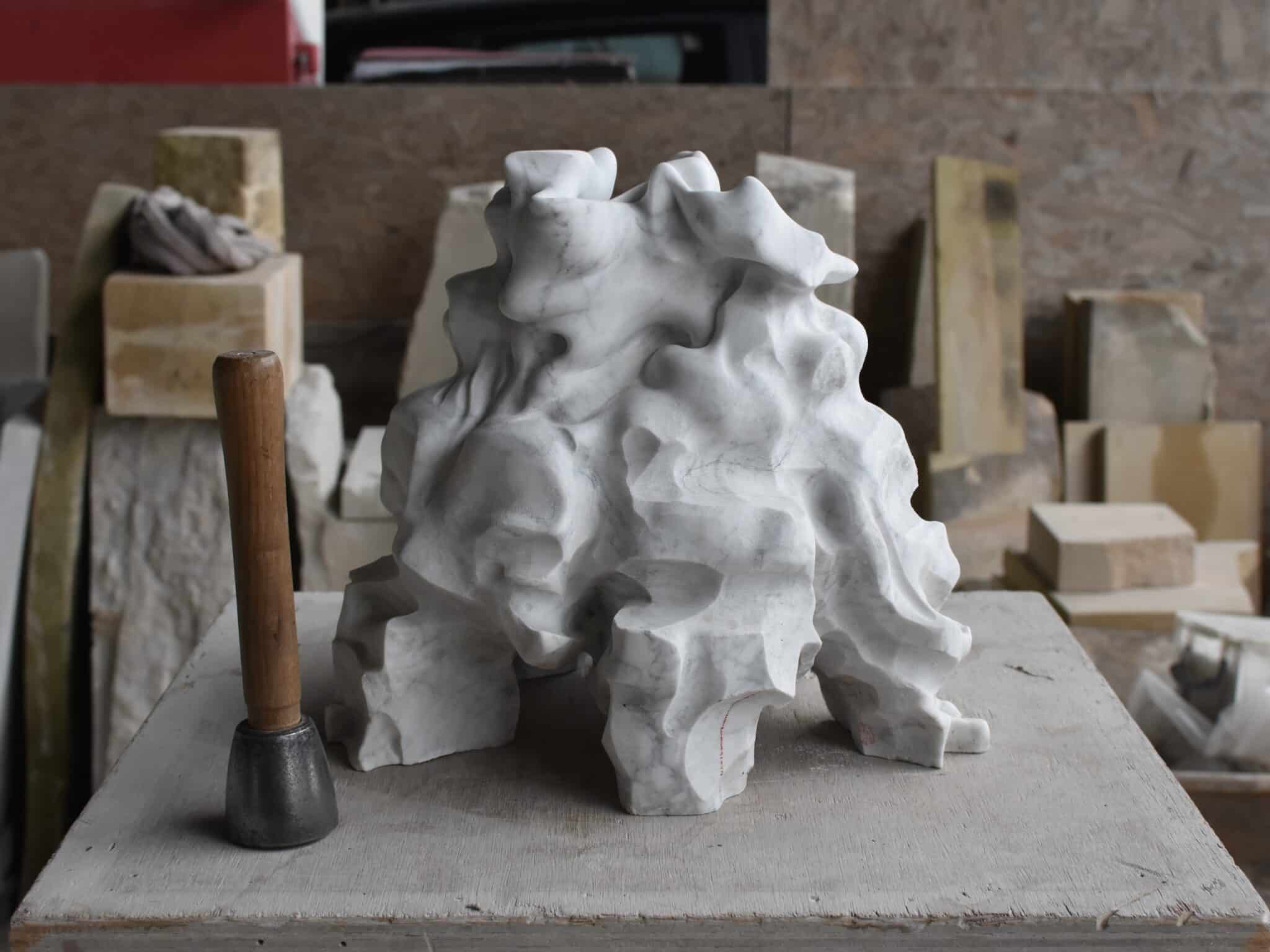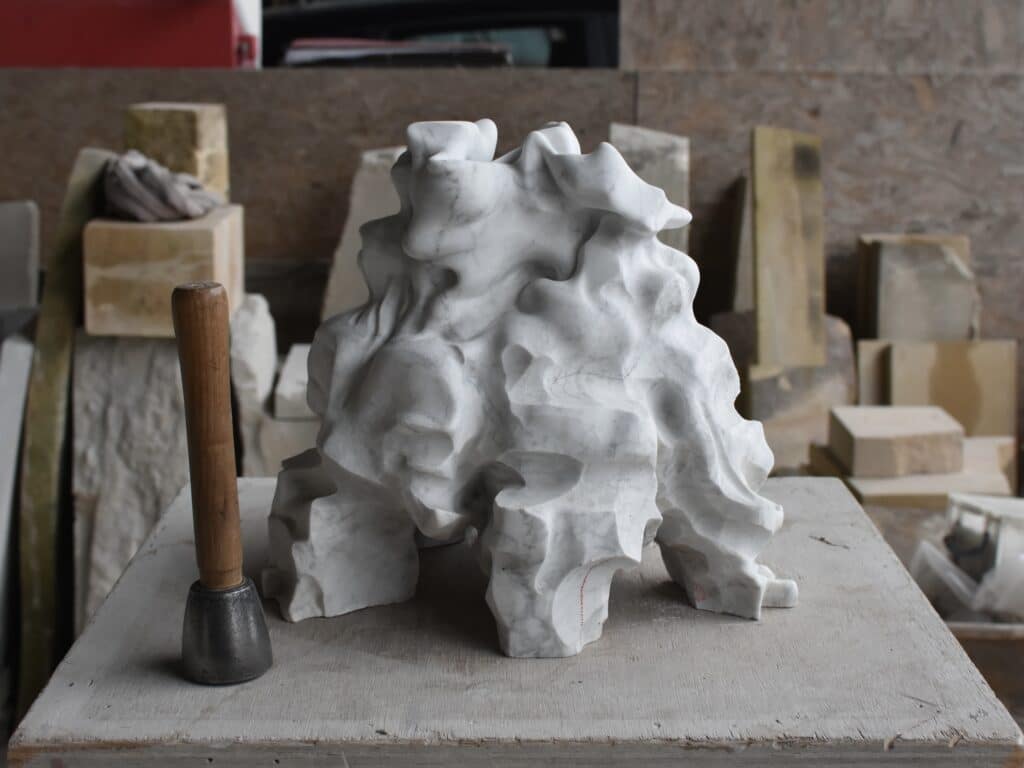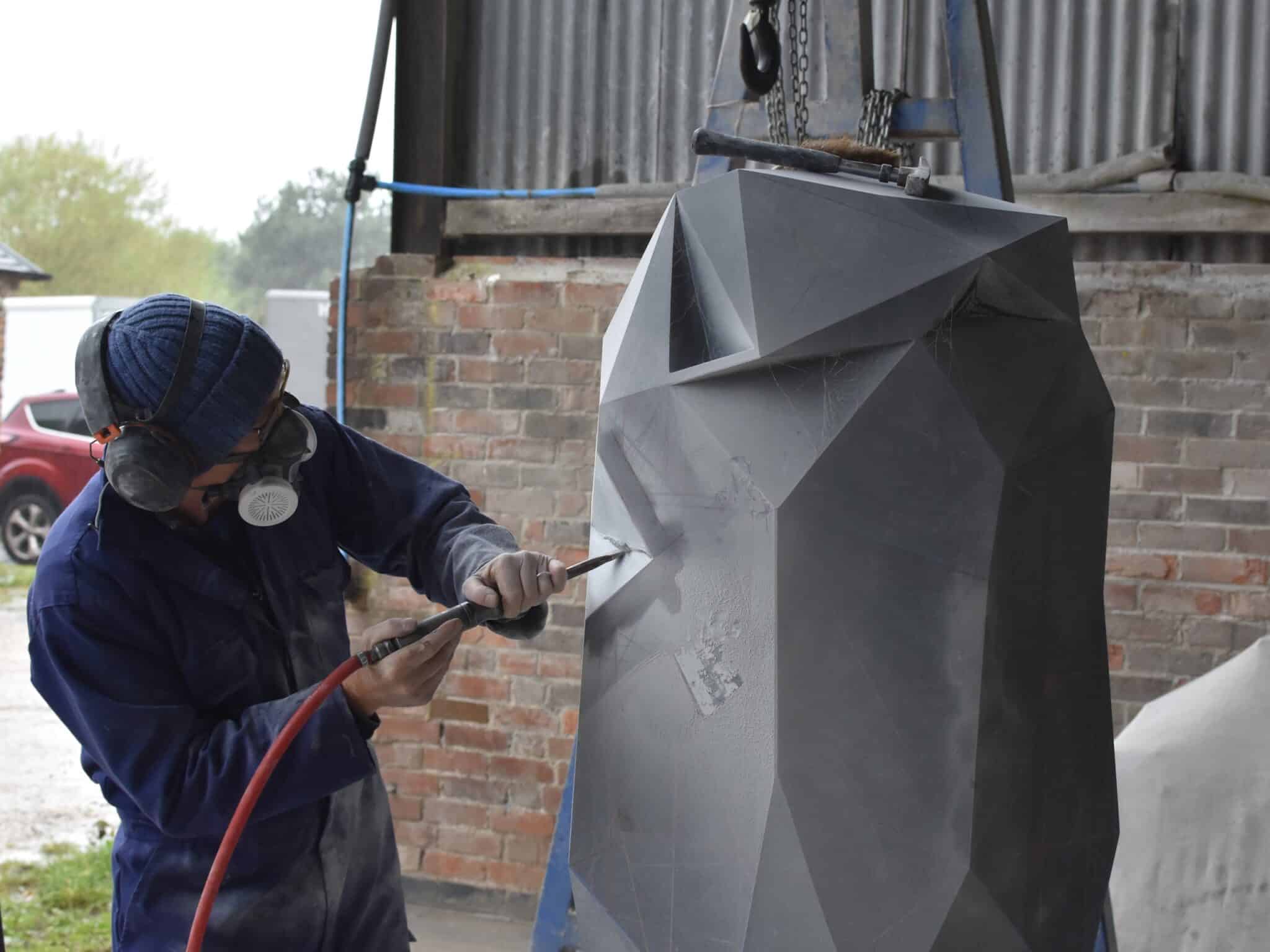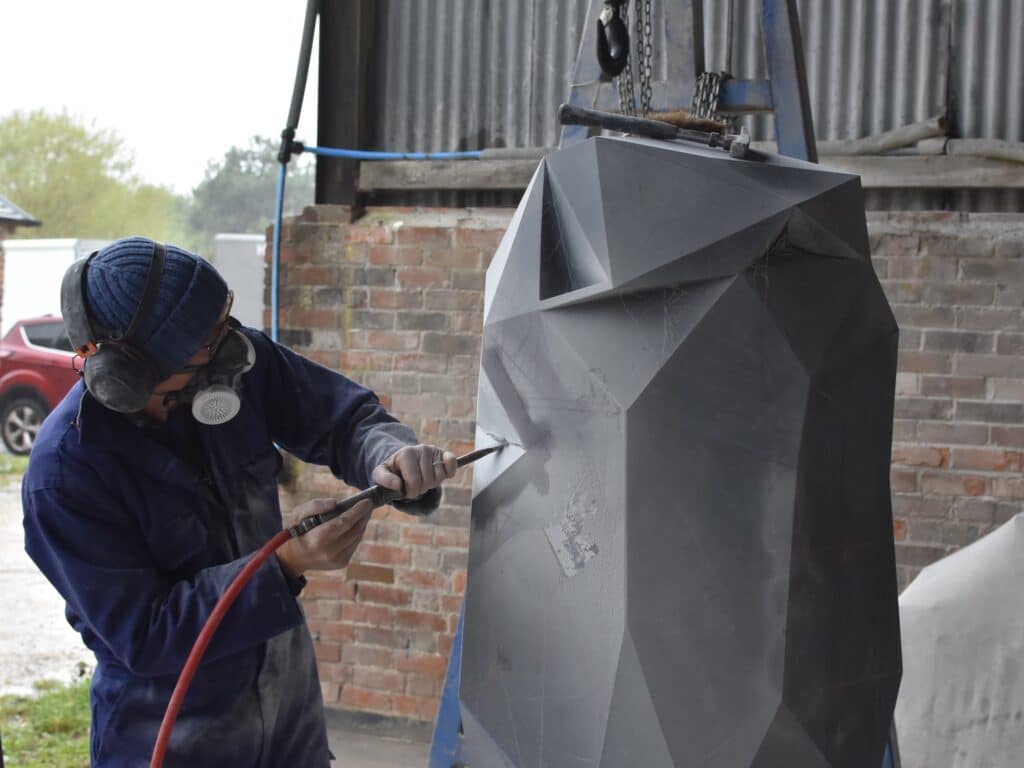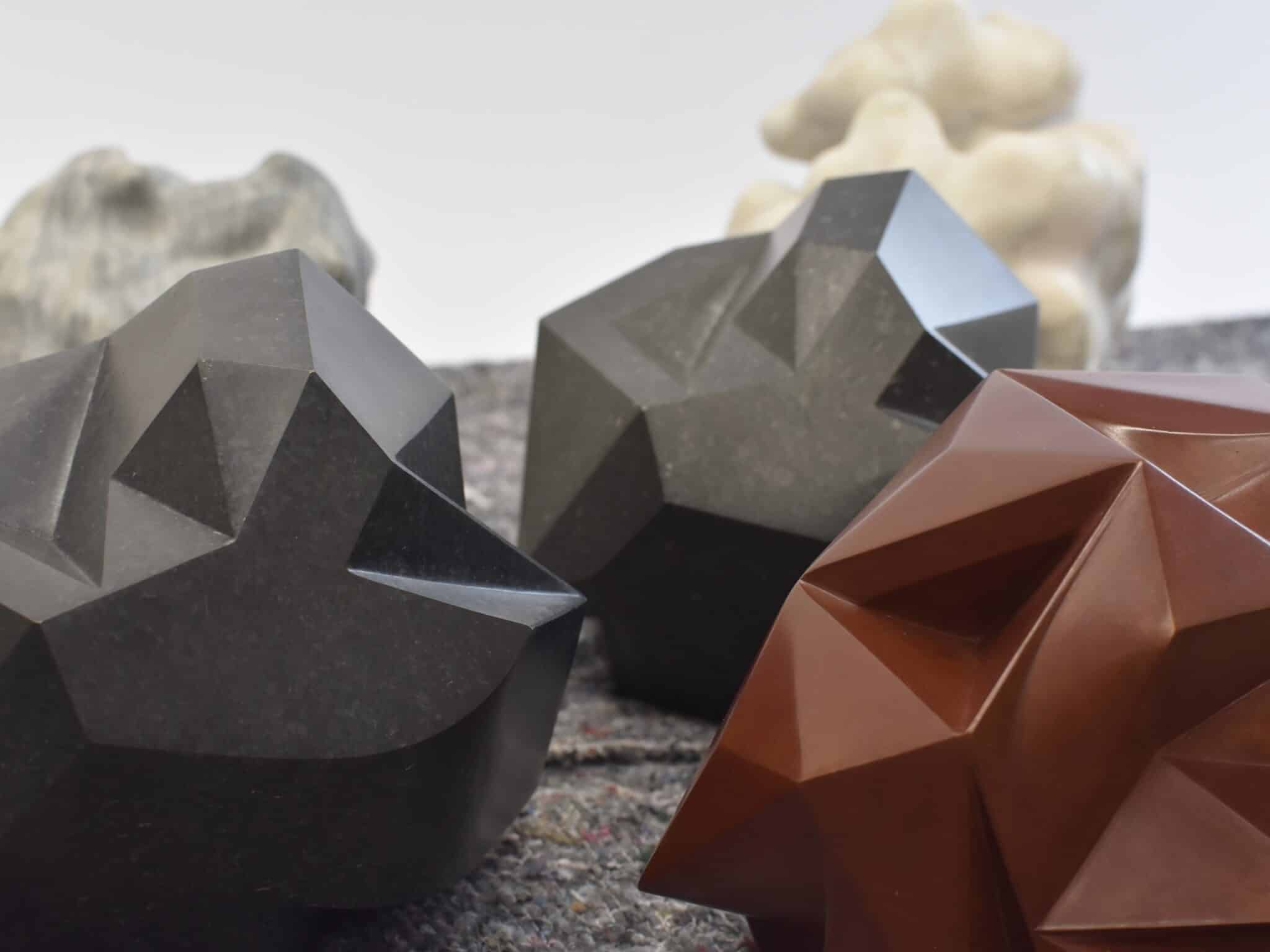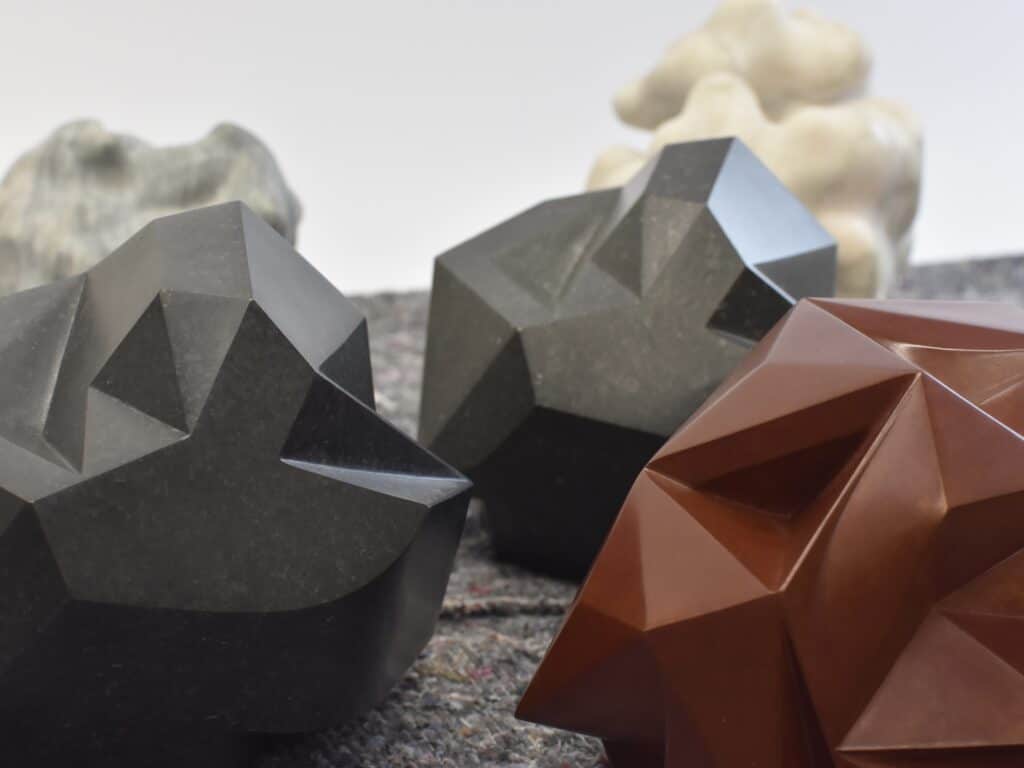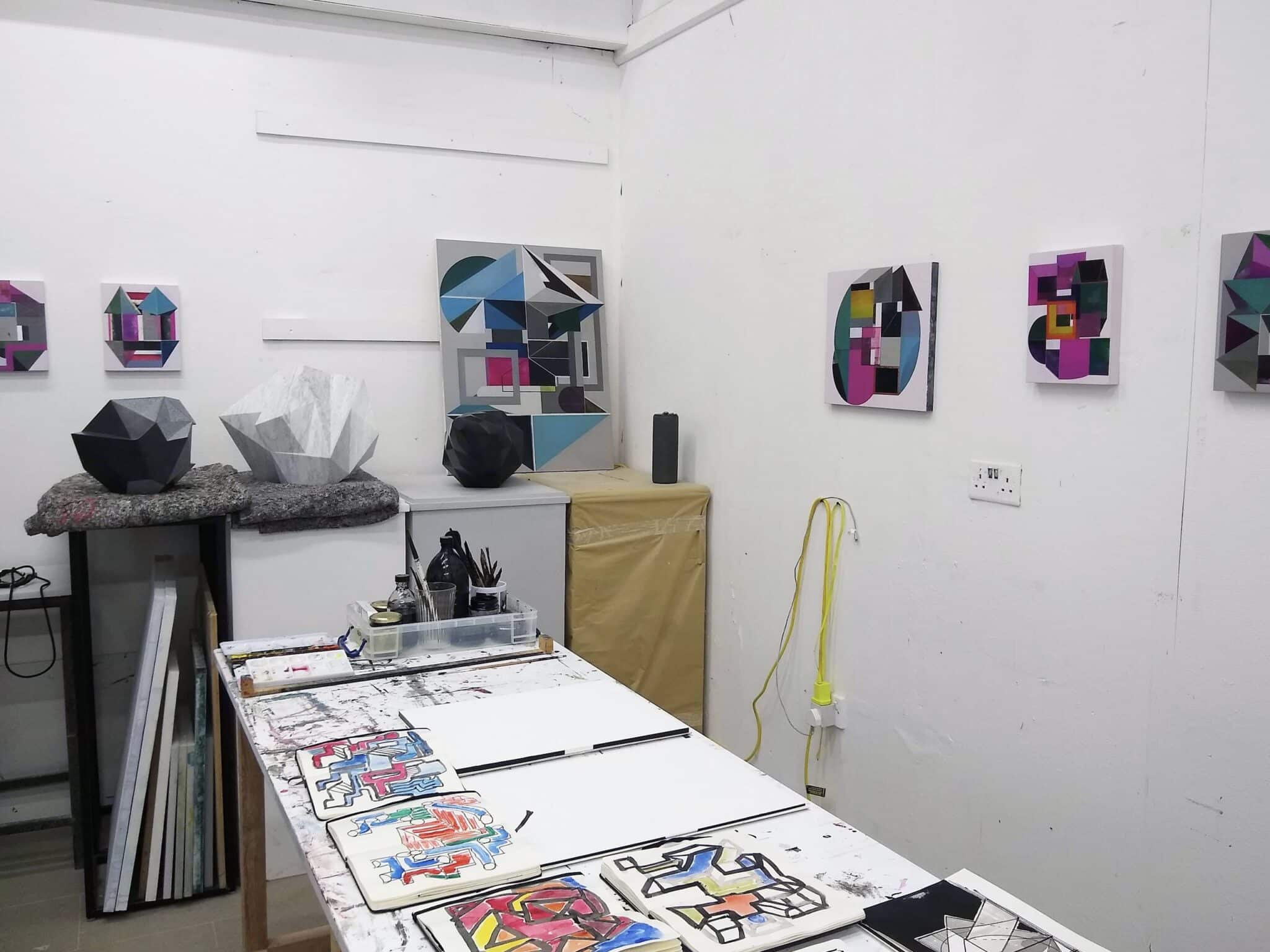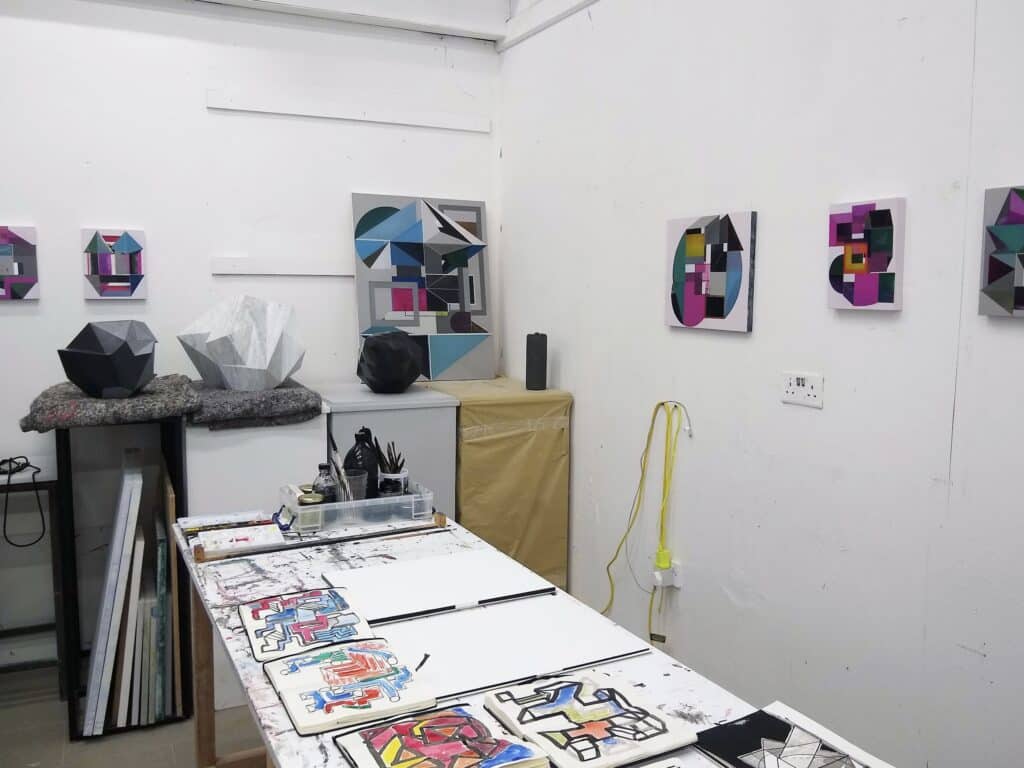 CV
Education
1981: B.A.(Hons) Fine Art, First Class, Leeds Polytechnic
Exhibitions
SOLO EXHIBITIONS
2019 : Richard Perry: Stone and Ink, Brownsword Hepworth Gallery, London (solo)
2017 : Richard Perry: Recent Works, Lakeside Arts Centre, Nottingham (solo)
2005 : Jersey Arts Centre, St Helier, Jersey
2003 : Capital One, Nottingham
2001 : Foyer Gallery, The Djanogly Gallery, Nottingham
1997 : The Aspidal Gallery, Rufford
1996 : The Hart Gallery, London
1996 : The Harley Gallery, Welbeck, Notts
1995 : The City Gallery, Leicester
GROUP EXHIBITIONS
2022 : Sculpture: Forever in the Now, Woking
2022 : On Form, Oxfordshire
2022 : Degrees of abstraction, Tarpey Gallery, Castle Donington
2021 : Trace Elements 1971, at Thorp Stavri's The Factory Project, London
2021 : On Form 2020, Oxfordshire
2020 : Kite Circus, Sidney & Matilda, Sheffield
2019&20 London Art Fair, Brownsword Hepworth Gallery stand
2019 : Royal Society of Sculptors Summer Show, Dora House, London
2019 : arc, angle, plane, form: geometry in art, Gallery 57, Arundel
2018 : See Here (Quarry Lab), old Neale's Auction House, Nottingham
2018 : Two-person show with Stephen Snoody, The Old Lockup Gallery, Cromford
2018 : Unfolding, Gallery 57, Arundel
2018 : An Eclectic Eye and Crafting Monumentality, Brownsword Hepworth Gallery, London
2017: Strangelands, Collyer Bristow Gallery, London
2015 : Geometry Wonky or Otherwise, Déda, Derby
SCULPTURE COMMISSIONS
2018 : Berg, White marble sculpture for the Si Juan Centre, Nottingham University
2018 : Zephyr, 3 carved granite sculptures for Grosvenor & Hilbert Park, Tunbridge Wells
2017 : Halley 8, Sculpture Installation for Nevill Holt Opera
2016 : River, 35m long relief carving, 3 St Paul's Place, Sheffield
2014 : Series of carved sculptures for the Shipwrights Way trail, Hampshire
2013 : Bradain, Carved Kilkenny Limestone sculpture for Blackrock, Ireland 3m long
2011 : StarStone, 5.5m high Armagh marble, Market Place, Armagh
2010 : ShoalStone, 1.5m high Whatscliffe Derbyshire sandstone, Rushenden, Kent
2008 : FloraStone, 1.5m high Portland Stone, New Downe Hospital, Downpatrick
2008 : LifeStones, Bronze inlays for 6 sculptural benches, Trinity Square, Nottingham
2007 : Newbury StarStone, Gritstone sculpture for Sovereign Housing, Newbury
2006 : Manchester Tree, Limewood, oil & wax 150cm high, private collection
2005 : Freedom Tree, 6m high bronze, St Helier
2004 : 2 carved and 7 cast sculptures for P&O's new liner 'Arcadia'
2004 : Needle, 14m high slate sculpture, Jersey Public Sculpture Trust, St Helier
2003 : Harley Cubes, 1.28m high sculpture, The Harley Gallery, Welbeck, Notts
2002 : Fountain Trees, 5 ceramic sculptures (3 water columns), Festival Square, Basingstoke
2000 : 4 x 3m high bronze sculptures, 4 granite benches & floorscape, Mansion House Sq, Doncaster
2000 : Interlocking Oaks, 4.5m high stone arch, The Boots Company HQ N
2000 : Water Hawthorne, Limestone. The EDA Garden Museum, Tokyo
1997-99 : The Peace Gardens, Sheffield. Design and carving of 120m stone relief, Sheffield
1998 : Fire and Water, 2m high Carrara marble sculpture for Leamington Spa Fire Station
1997 : Six Figures, 10m carved stone balustrade, Nottingham Castle Museum & Art Gallery
1996 : 5.5m high bronze sculpture, Bethnal Green, London
1995 : From the Red Earth, 1.8 x 4.5m carved Sycamore relief, GlaxoSmithKline
1995 : Isola Song, 2m high Istrian marble, Forma Viva Sculpture Park, Slovenia
1995 : Willow Cube & Pine Cube, bronze sculptures & drawings The Boots Company HQ
1994 : 10 drawings for the boardroom of The Boots Company Head Office, Nottingham
1994 : Mountsorrel Tree, bronze sculpture for the Wells Road Unit, Notts Healthcare Trust
1992 : 8 x 3.6m Limewood relief for the International Convention Centre, Birmingham
1993 : Tree, 3.5m high carved Portland stone sculpture, Northampton Guildhall
1991 : Thomas Boulsover, Bronze sculpture, Tudor Square, Sheffield
1988 : 4 carved Oak doors, Newark Library
1987 : Three Musicians, Carved marble bas-relief for The Royal Concert Hall, Nottingham
1986 : Quartet, Bronze sculpture Angel Row, Nottingham
COLLECTIONS
The British Museum (National Collection of Prints and Drawings)
Arcadia (P&O)
Armagh City
ASDA Properties plc
Bethnal Green City Challenge
Birmingham City
The Boots Company
Derby Education Authority
Derby Museums Service
Doncaster Metropolitan Borough
Dudley Metropolitan Borough
EDA Garden Museum, Tokyo
Forma Viva, Pirano, Slovenia
GlaxoSmithKline
Grosvenor Estates
The Harley Foundation
Jersey Public Sculpture Trust
Leicestershire Schools Collection
County Louth, Republic of Ireland
New Downe Hospital
Milton Keynes Development Corporation
Nottingham City
Nottinghamshire County
Nottinghamshire Healthcare Trust
Northampton Borough
PricewaterhouseCoopers
Rufford Sculpture Garden
Rushenden Borough
Sheffield City
Sovereign Housing Association
Thamesdown Borough Council
University College Dublin
Warwickshire Fire & Rescue Services
Private collections across the UK, Europe, USA and Asia
Awards & Residencies
2006 : National Stone Federation Award for "Needle", Jersey
2000 : National Srone Federation Award for "The Peace Gardens", Sheffield
1999 : RIBA National Urbal Design Award for "The Peace Gardens", Sheffield
1997 : Nottingham City Counsil Design Award for balustrade at Nottingham Castle
1990 : RSA "Art for Architecture" Award for commissioned sculpture designs
RWA Sculpture Exhibition First Prize