Dialogue with nature
Remembrance
Biography
The research of the Japanese artist Maho Maeda, which centres on nature and its sounds, takes shape in harmonious pictorial compositions from which emerge both strength and poetry. 
Maho Maeda: background and experimentations
Maho Maeda is a Japanese artist who lives and works in Mexico City, Mexico. She began her artistic career with a Bachelor's and Master's degree in Fine Arts at Kyoto City University of Arts, Japan, as well as an exchange programme at the Royal College of Art in London. She then moved to Germany and continued her studies at the Academy of Arts in Düsseldorf, where she graduated in 2008. She received several awards and grants during her career. Since the late 1990s, she has participated in group and solo exhibitions all over the world: Japan, Germany, Spain, Mexico, China, France, Luxembourg, Switzerland and South Korea. 
Maho Maeda's artistic practice is marked by a desire for experimentation and research, which takes shape in the creation of contemporary paintings, drawings, prints, photographs, videos and installations. She also combines several materials in her work, such as acrylic paint, oil, ink and pencil, and uses a variety of media, such as canvas, wood and fabric. In some of her works she also incorporates natural elements, such as leaves, branches and small stones, which she also uses as a support for the painting. 
From music to art, from sound to line 
Maho Maeda was not always a visual artist: she also had a passion for music and wanted to become a composer in her youth. She improvised at the piano, guided not by notes but by intuition and by the sounds she imagined in her head. She now tries to transpose these sounds or sound traces into her paintings, always composing them mentally before painting. In this way, she manages to materialise and represent the sounds through a very personal pictorial language, a visual composition in which the line is the protagonist. 
For the artist, the line follows the sound, especially its path and movement. In Maho Maeda's work, lines are broken, cut, bent, unstable. They change direction, cross each other, pass through empty spaces, sink into the engraved material or climb onto relief supports. In an almost minimal way, the lines draw harmonious compositions on monochrome or bichrome surfaces, combining with delicate abstract motifs that inevitably evoke the artist's other important source of inspiration: nature. 
Subjects and inspirations: nature and memory 
The sounds that Maho Maeda wishes to reproduce on canvas are indeed those of nature. The artist's reflection begins with this question: what is the sound of nature like? For example, what is the sound of a bud opening? and continues with a quest to translate this sound into image. The contemporary painter's sensitivity and curiosity for this subject lead her to an attentive and respectful observation of nature, its living elements, its changes and mutations. However, her works are not representations or imitations of nature, but rather personal interpretations of the sounds of nature materialised in a visual form and a concrete medium. 
Another very important theme in Maho Maeda's work is memory, of living beings and also of objects. With her art, the artist freezes a memory or a story in time and brings it to the attention of the observer. This search sometimes guides the choice of materials used, as in the case of old Japanese kimonos used as a support for the painting. "Living beings, non-living things, everything has its own 'history' and eventually disappears. […] We are born, we grow up, then we die. Things are born (created), exist for a while and then disappear. The histories of each of them is immeasurable. I close my eyes, and then I ponder and evoke them." Maho Maeda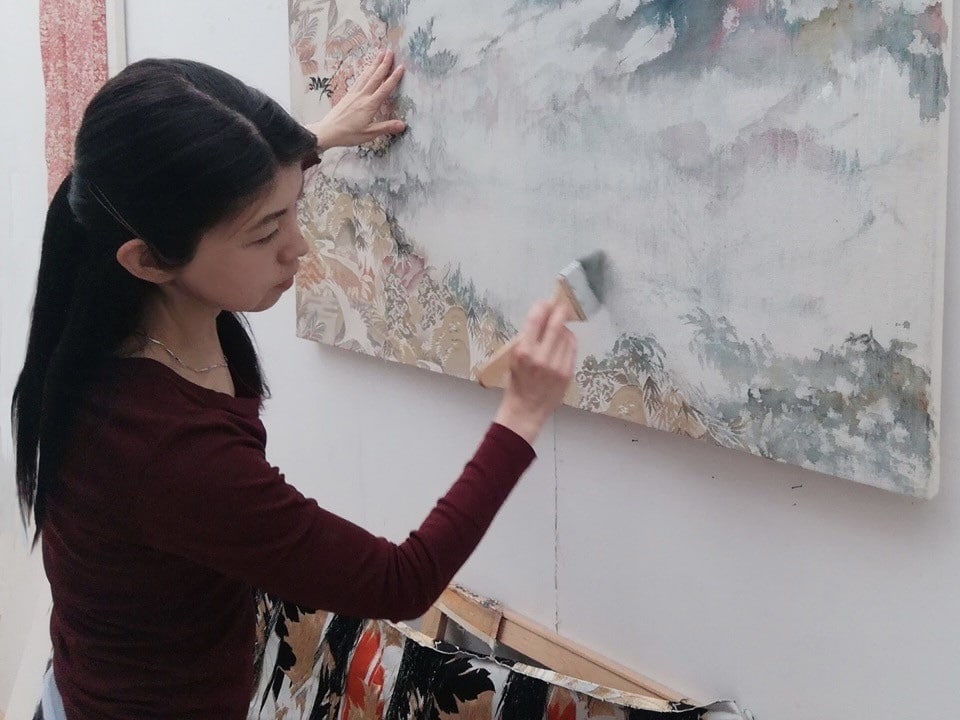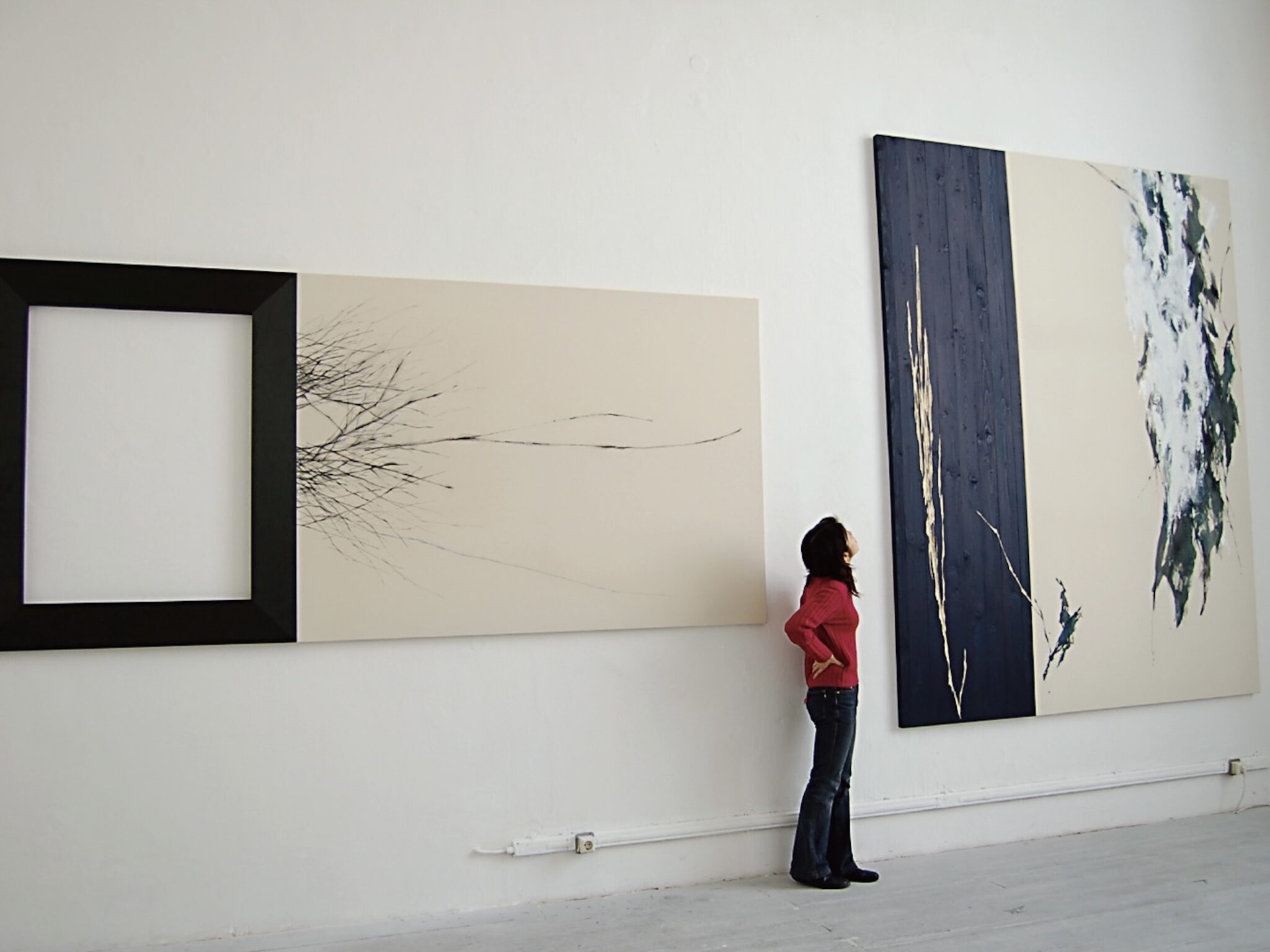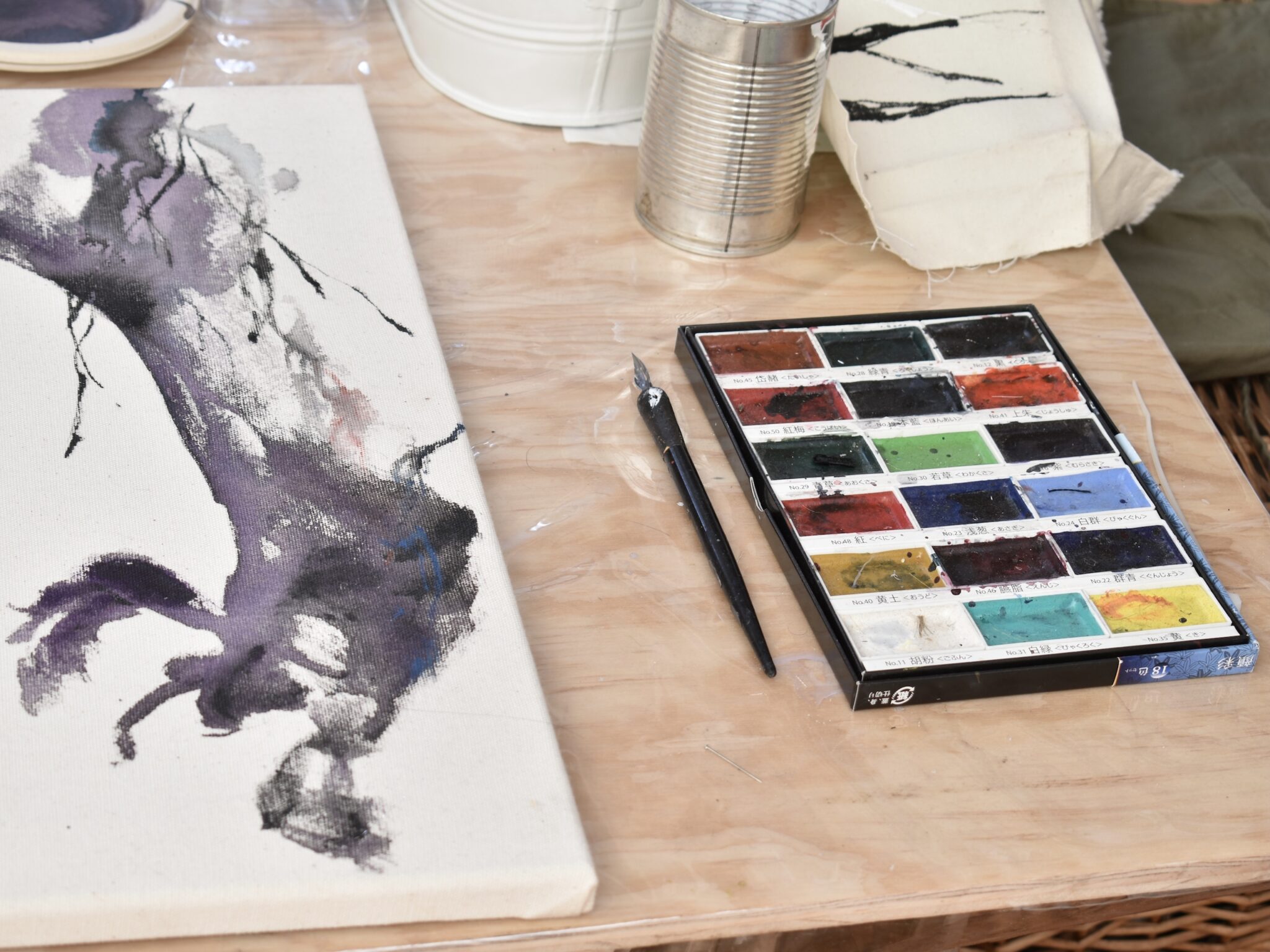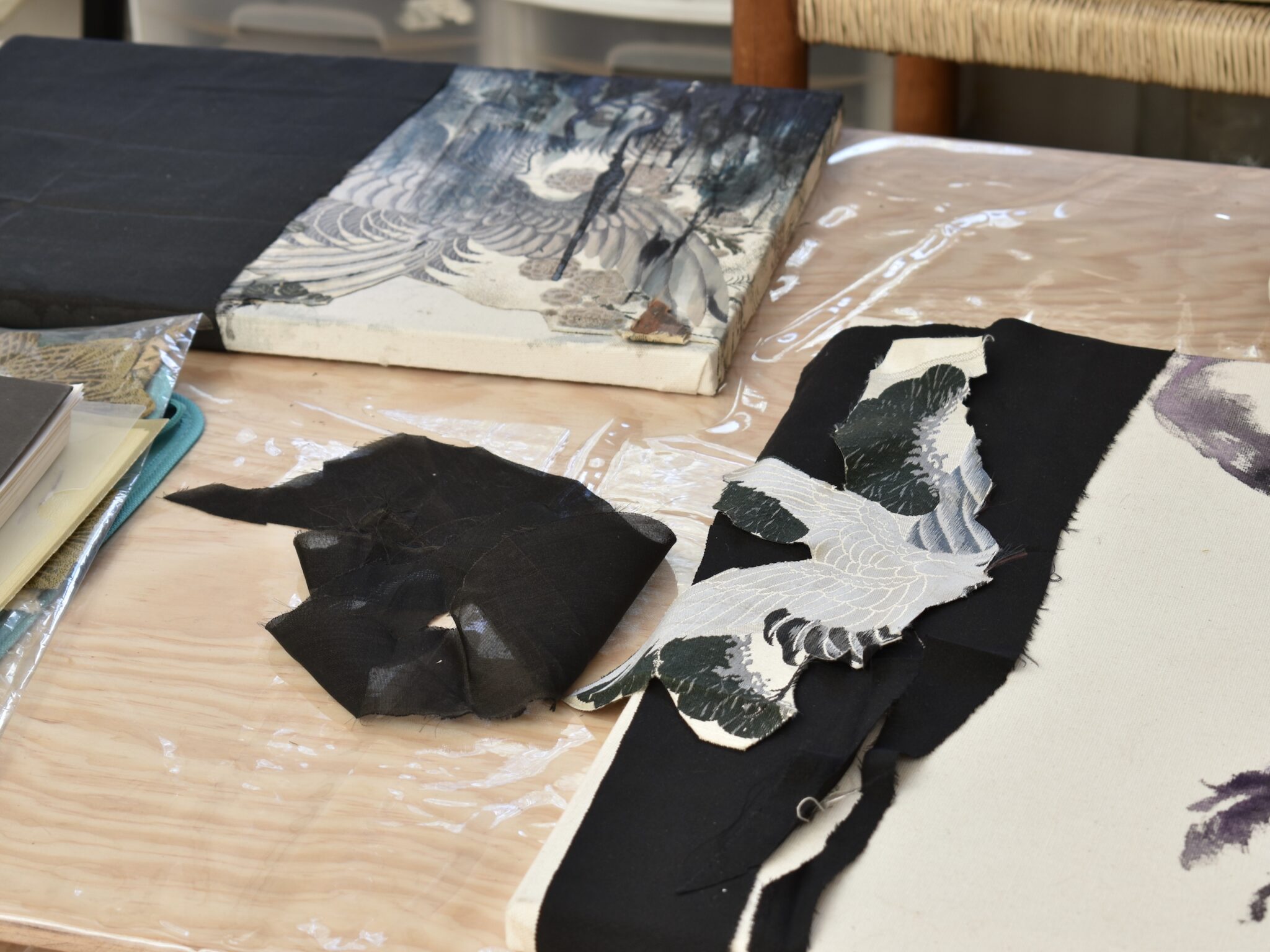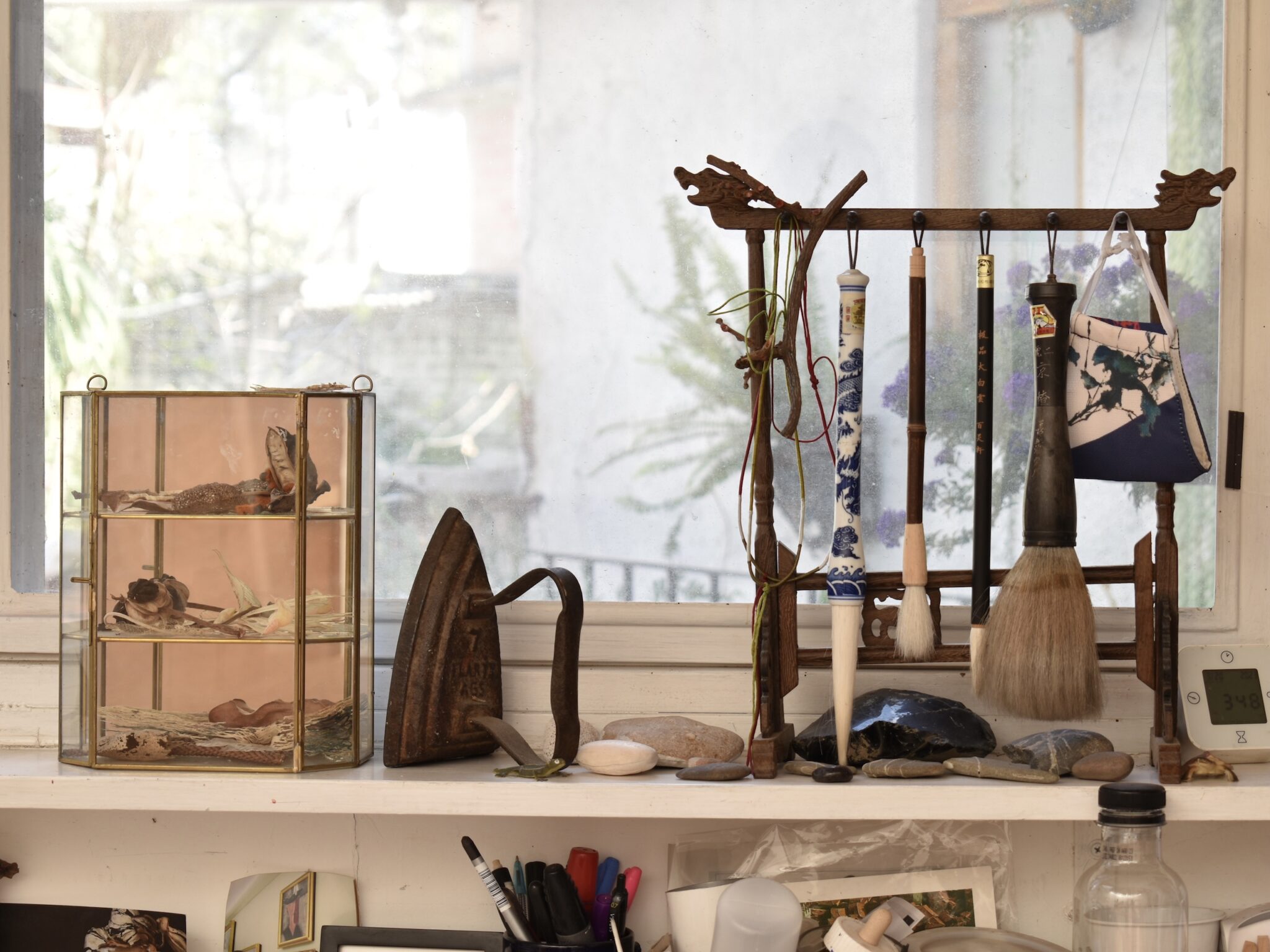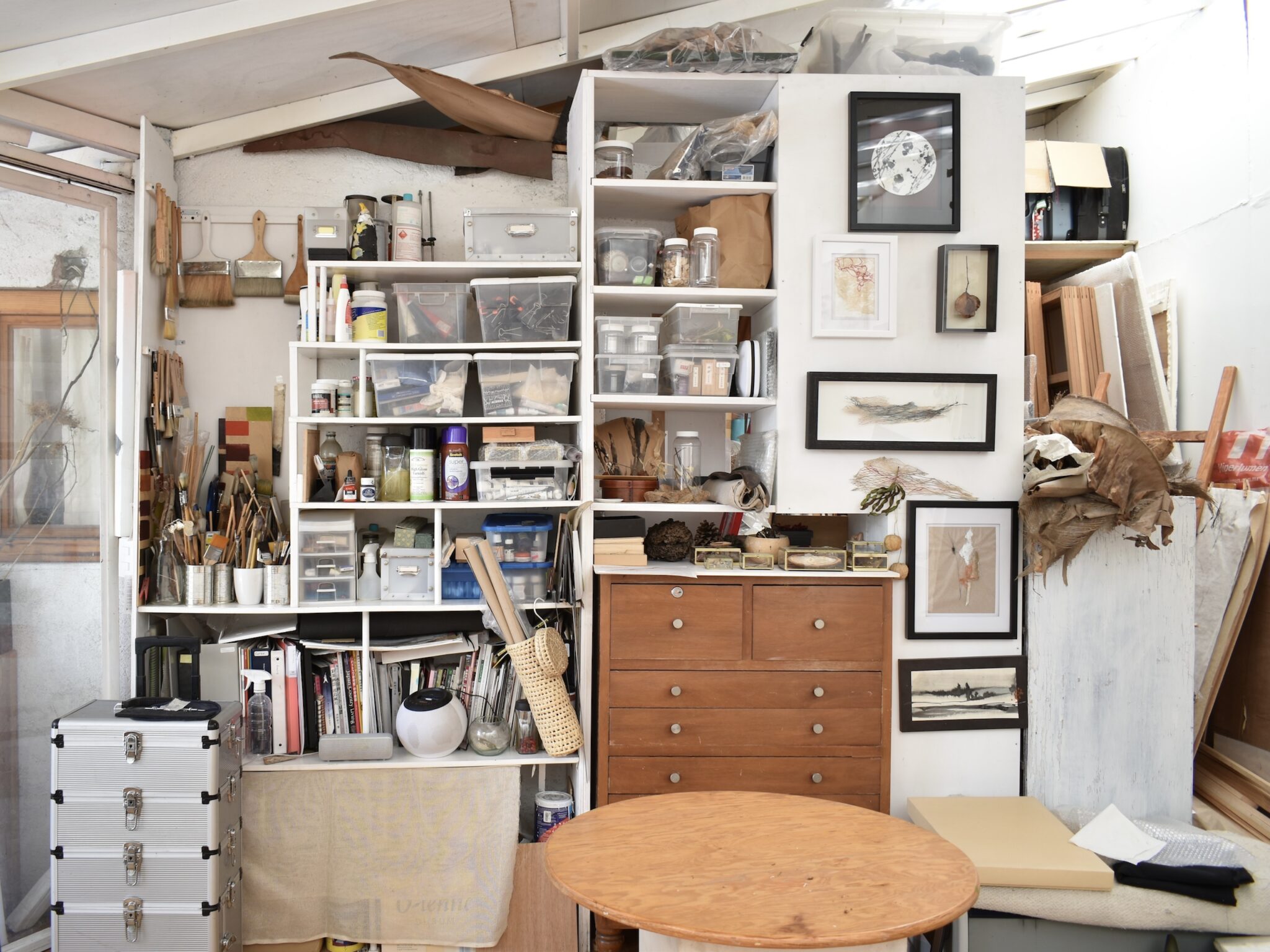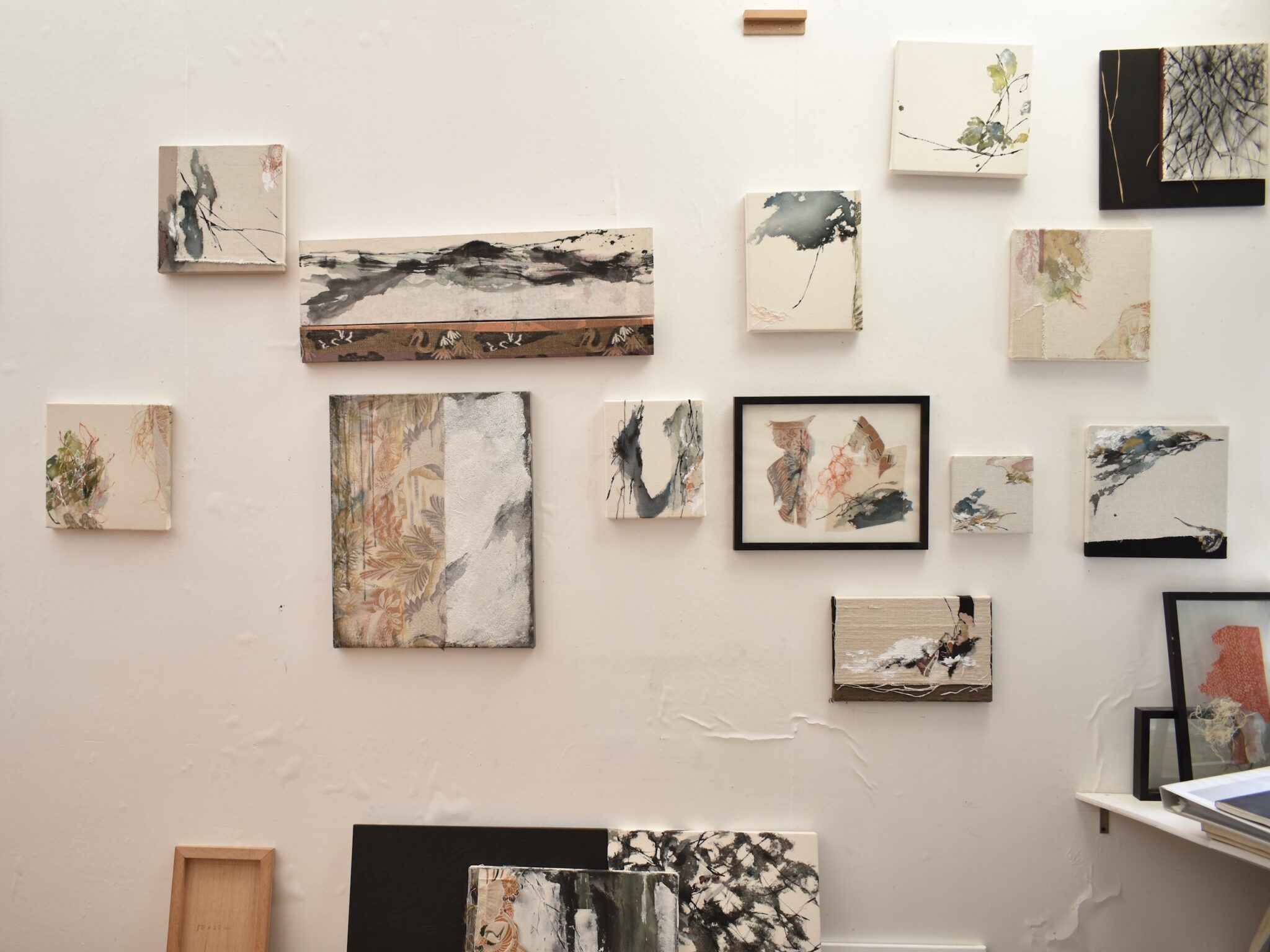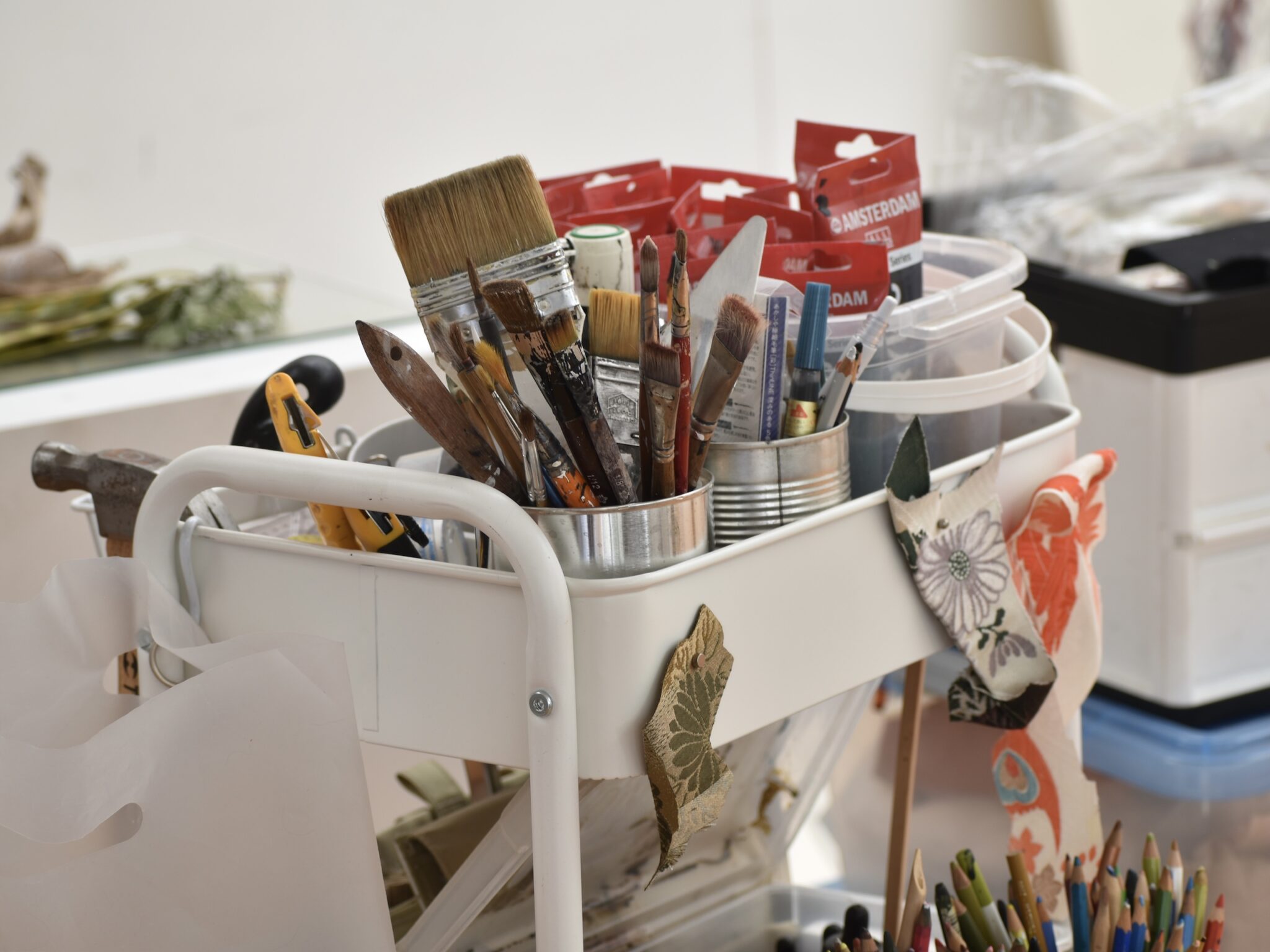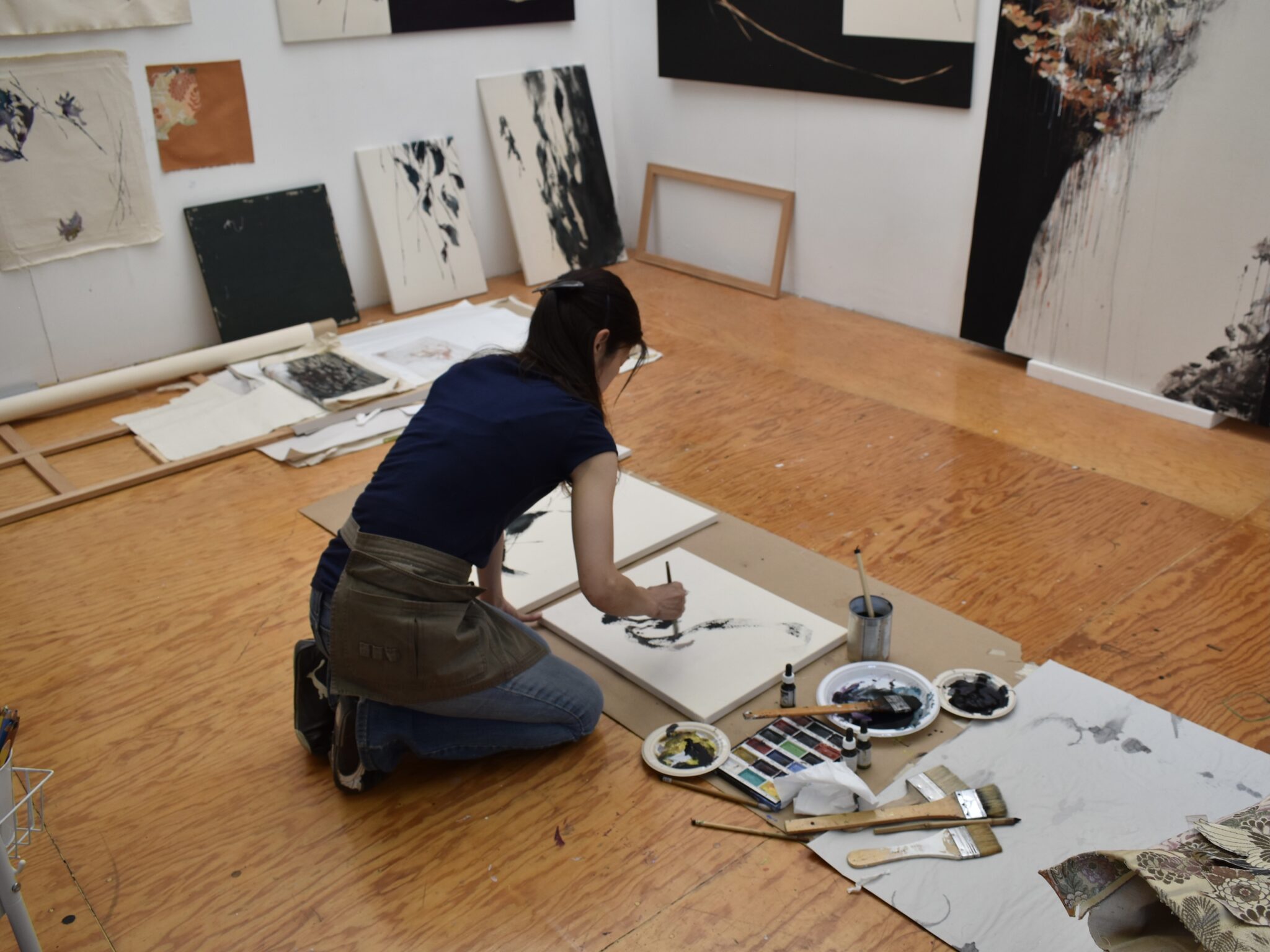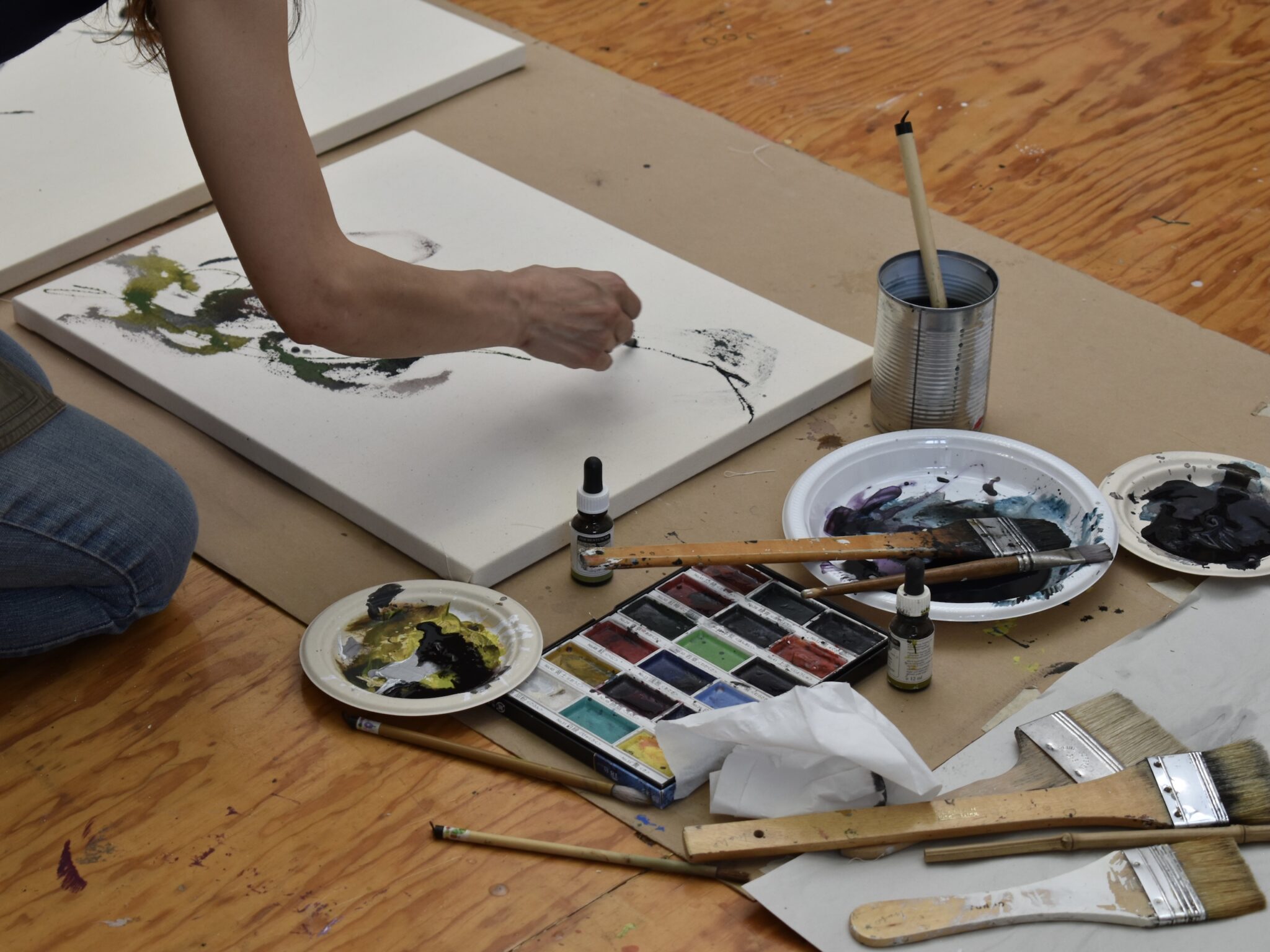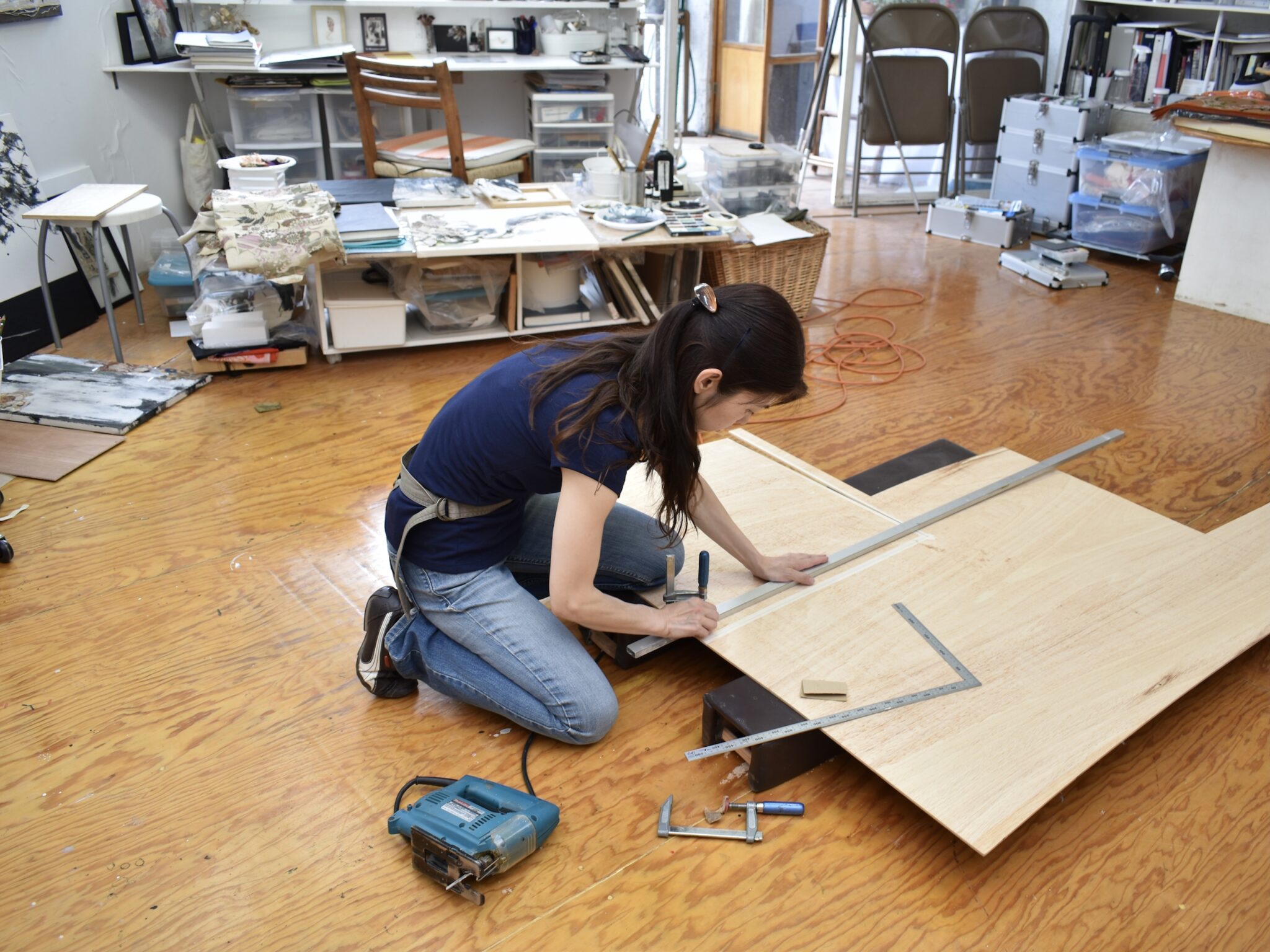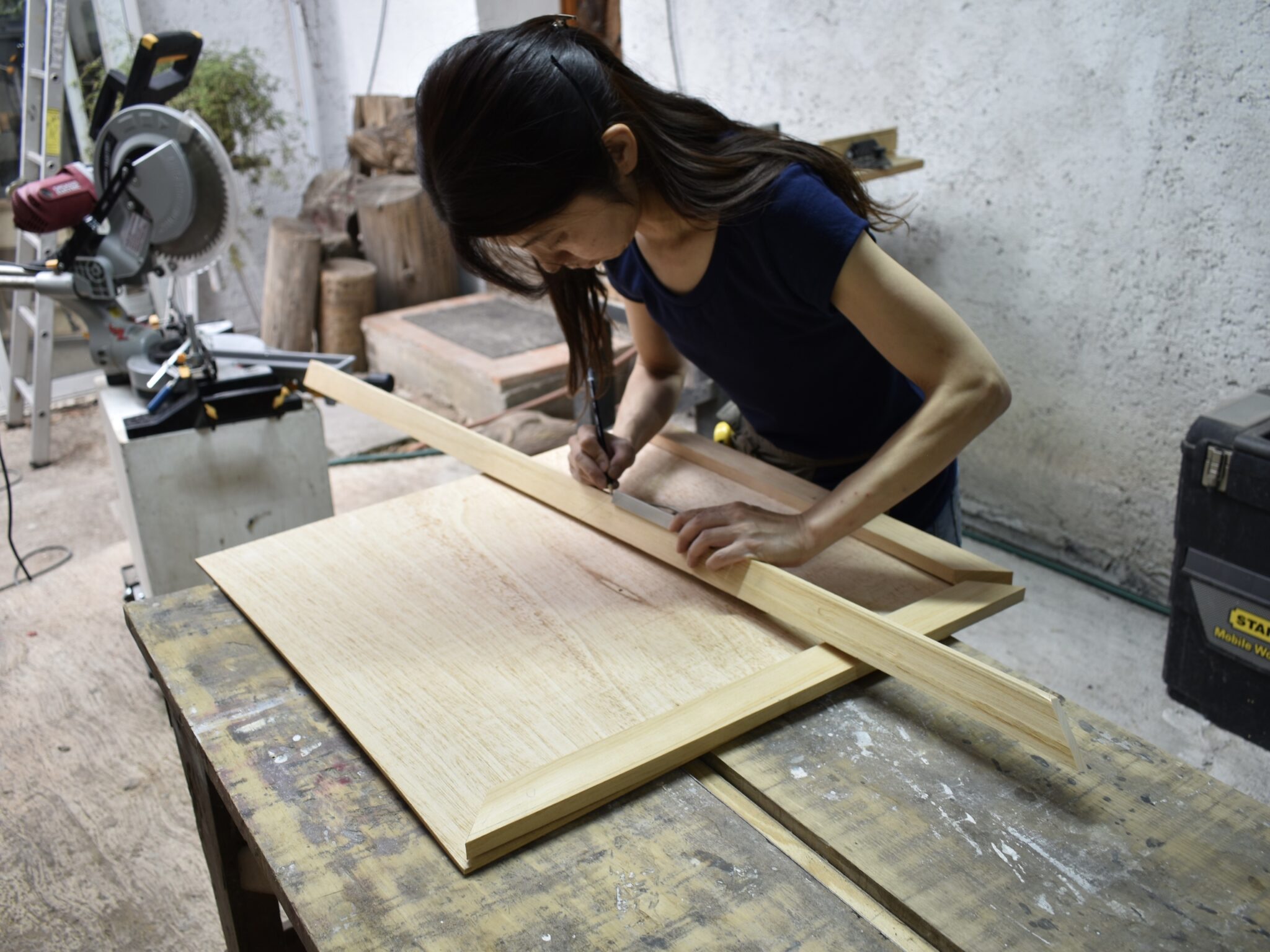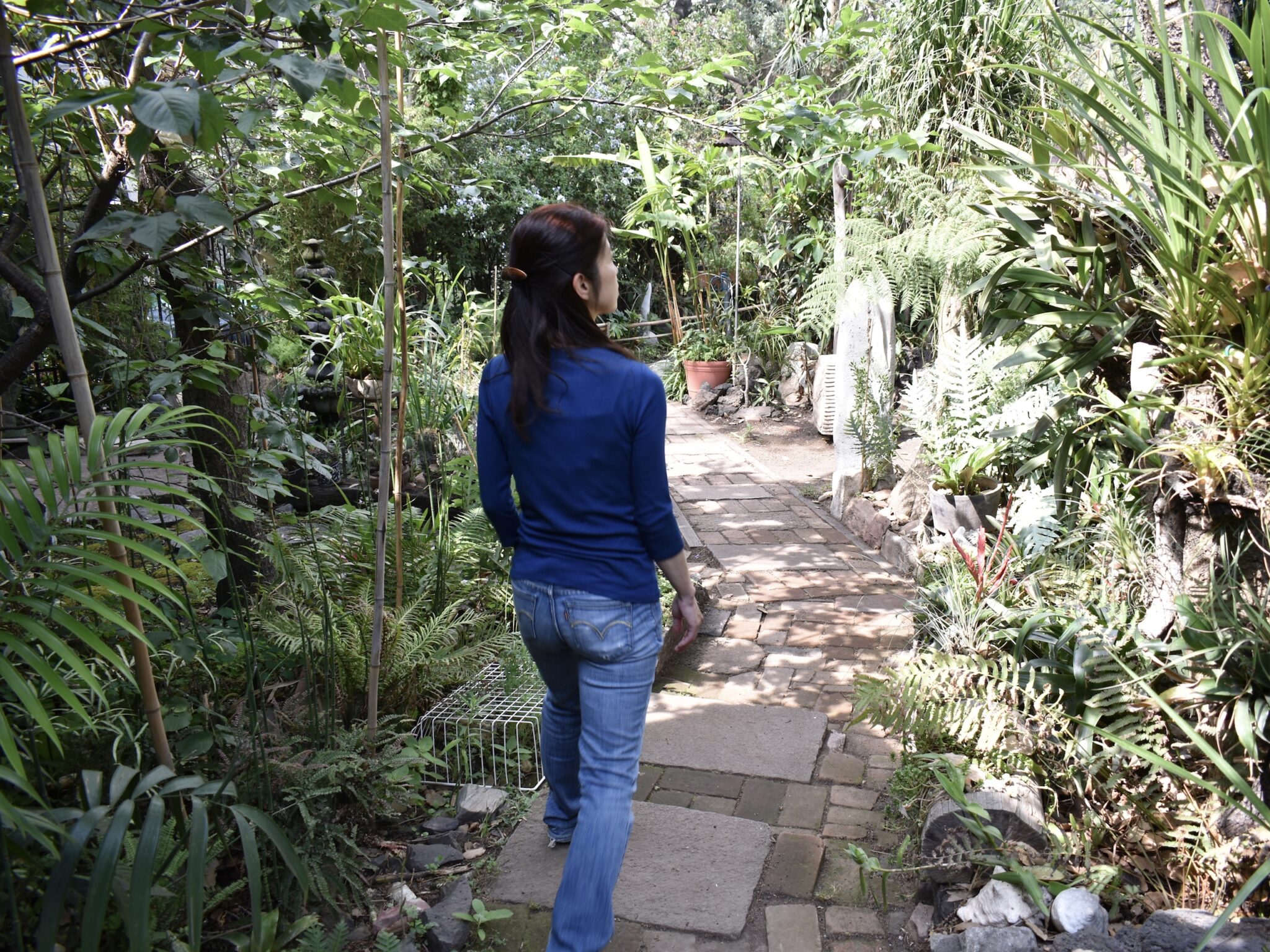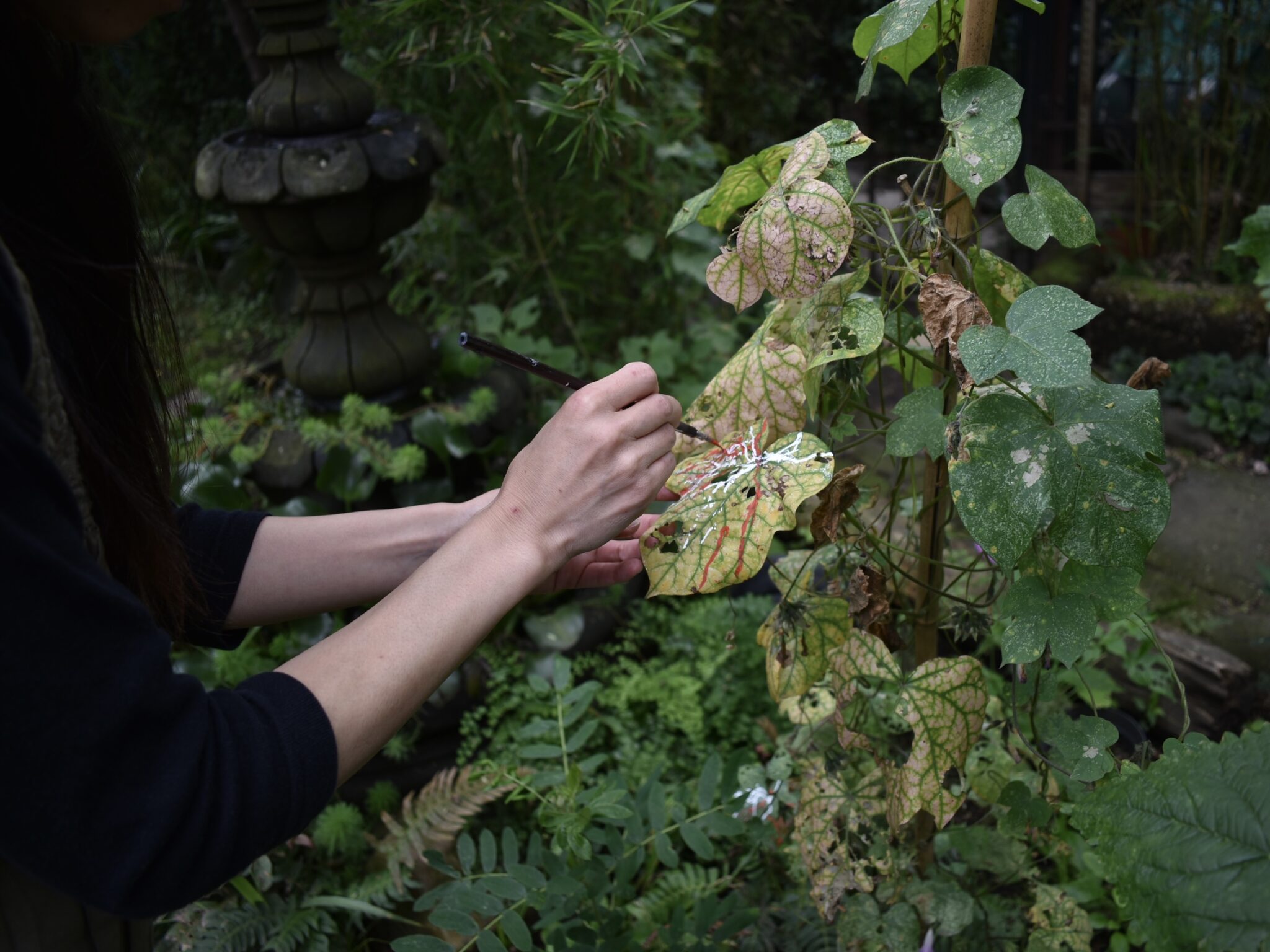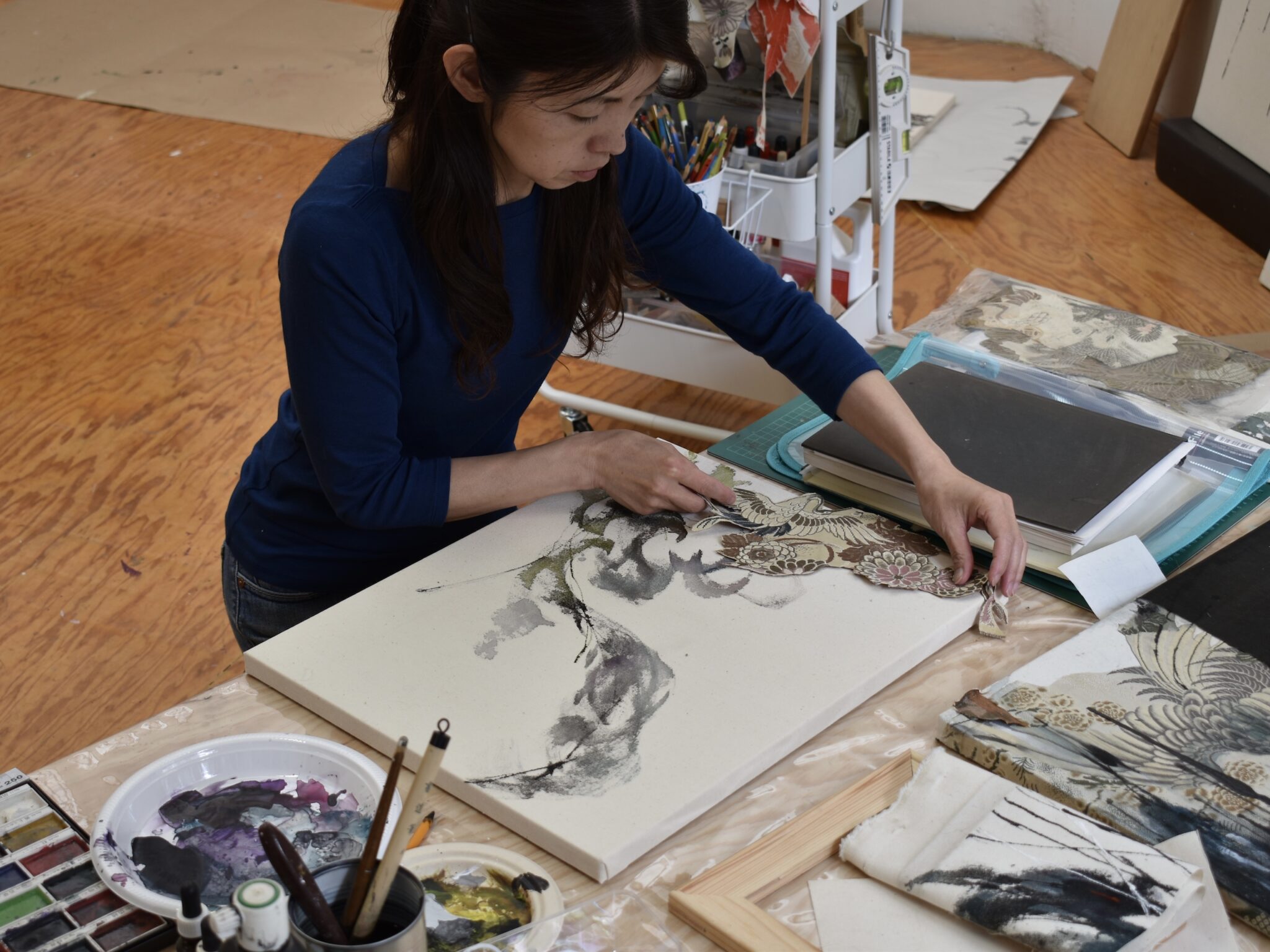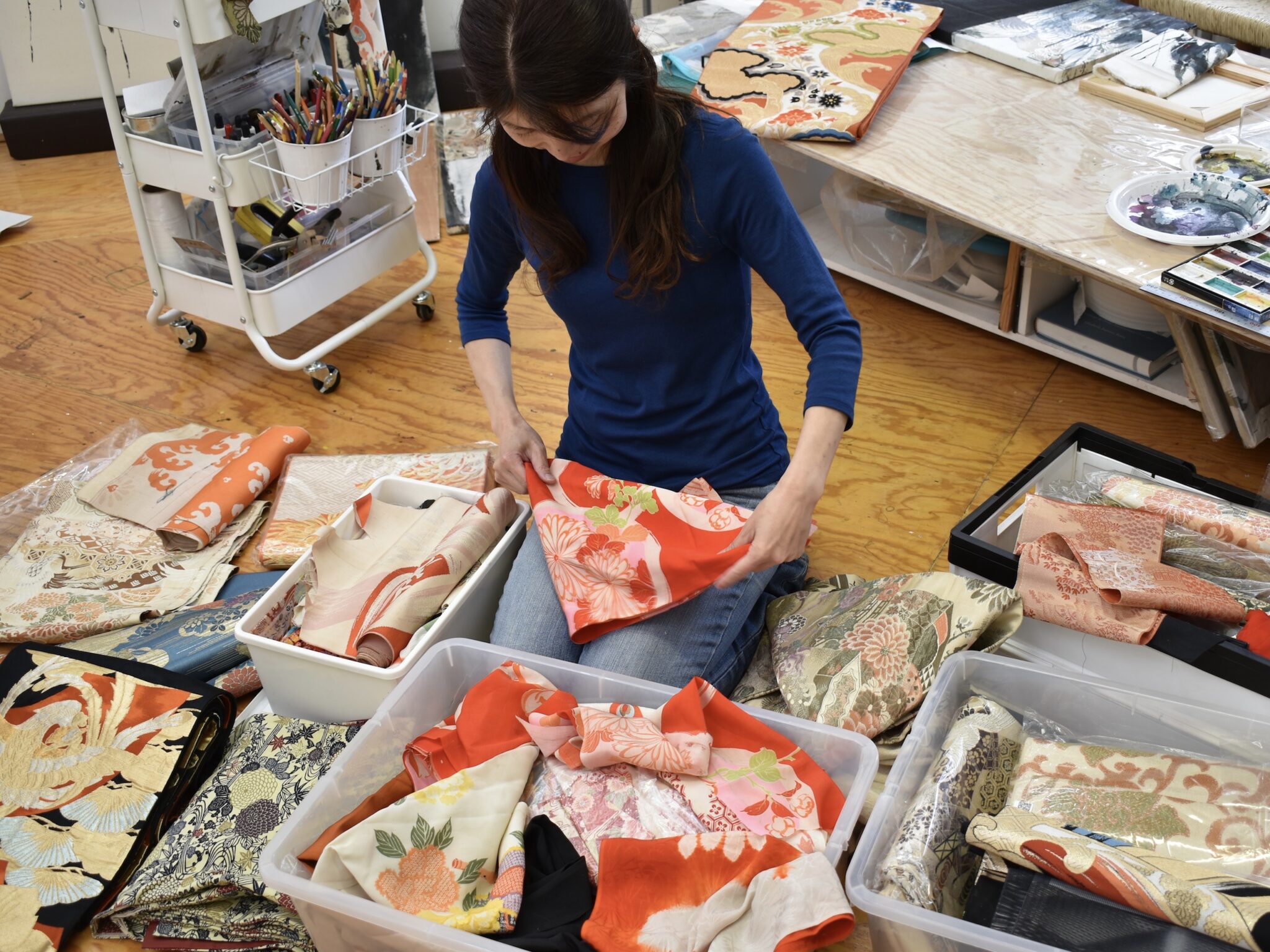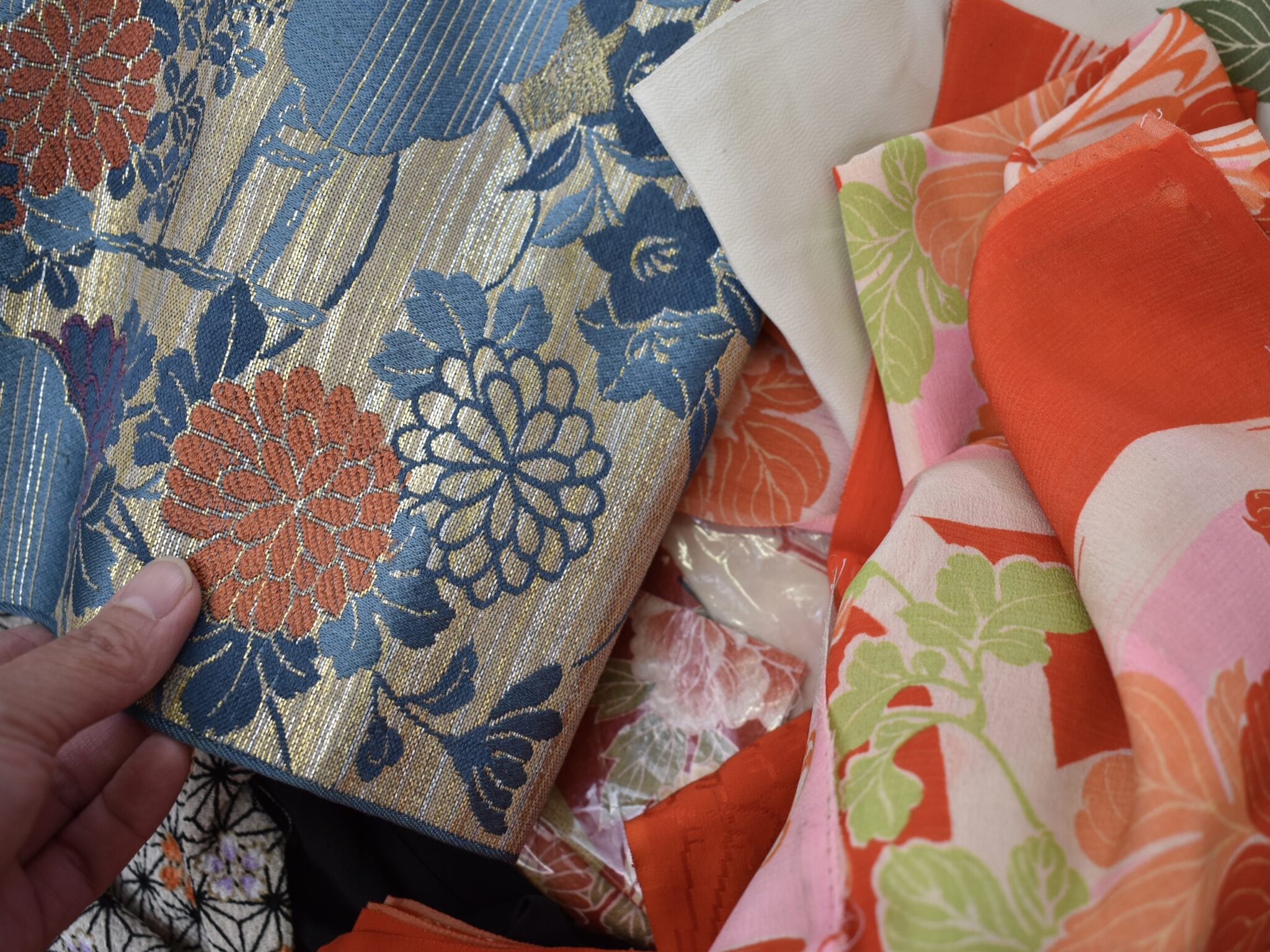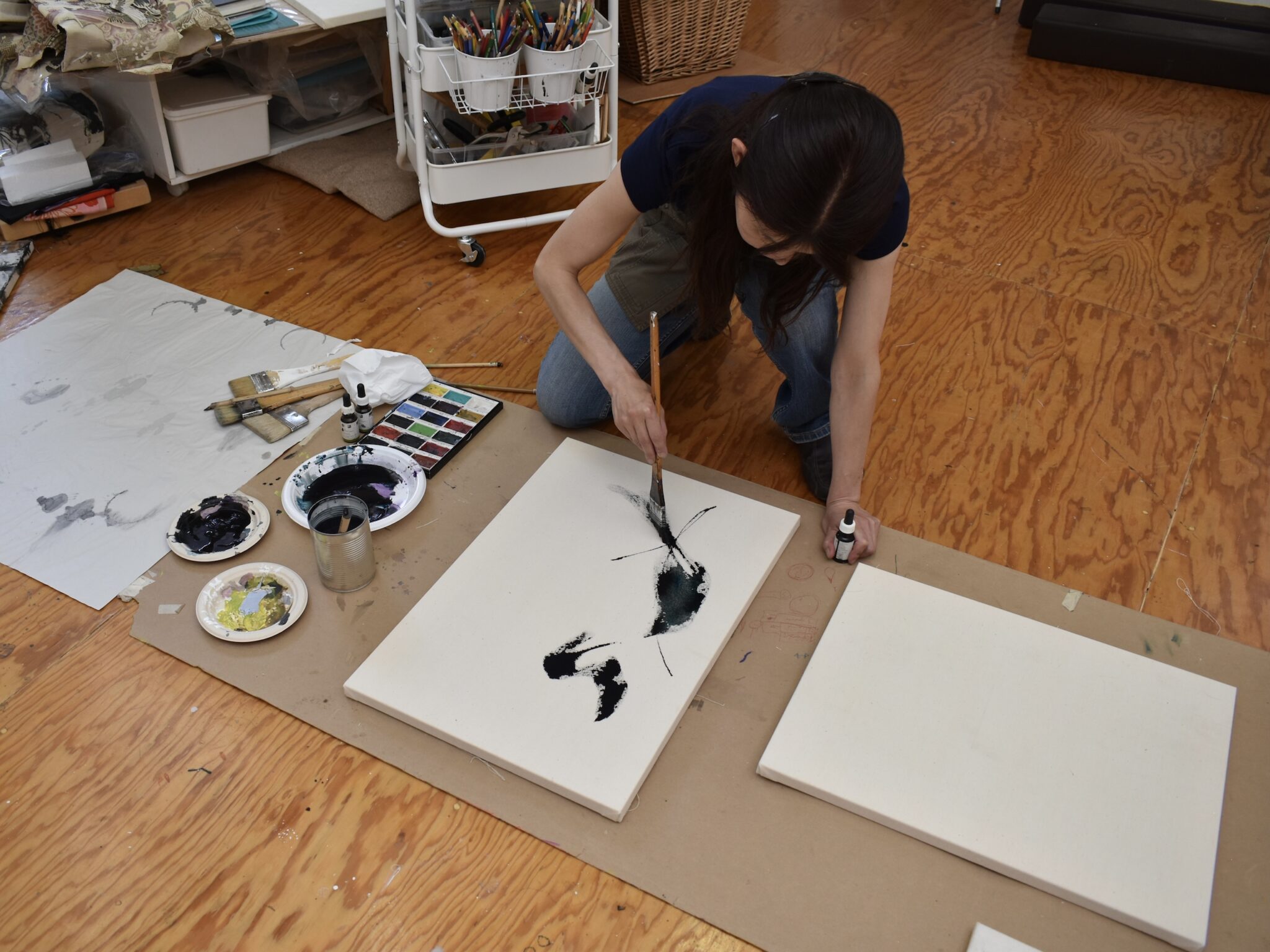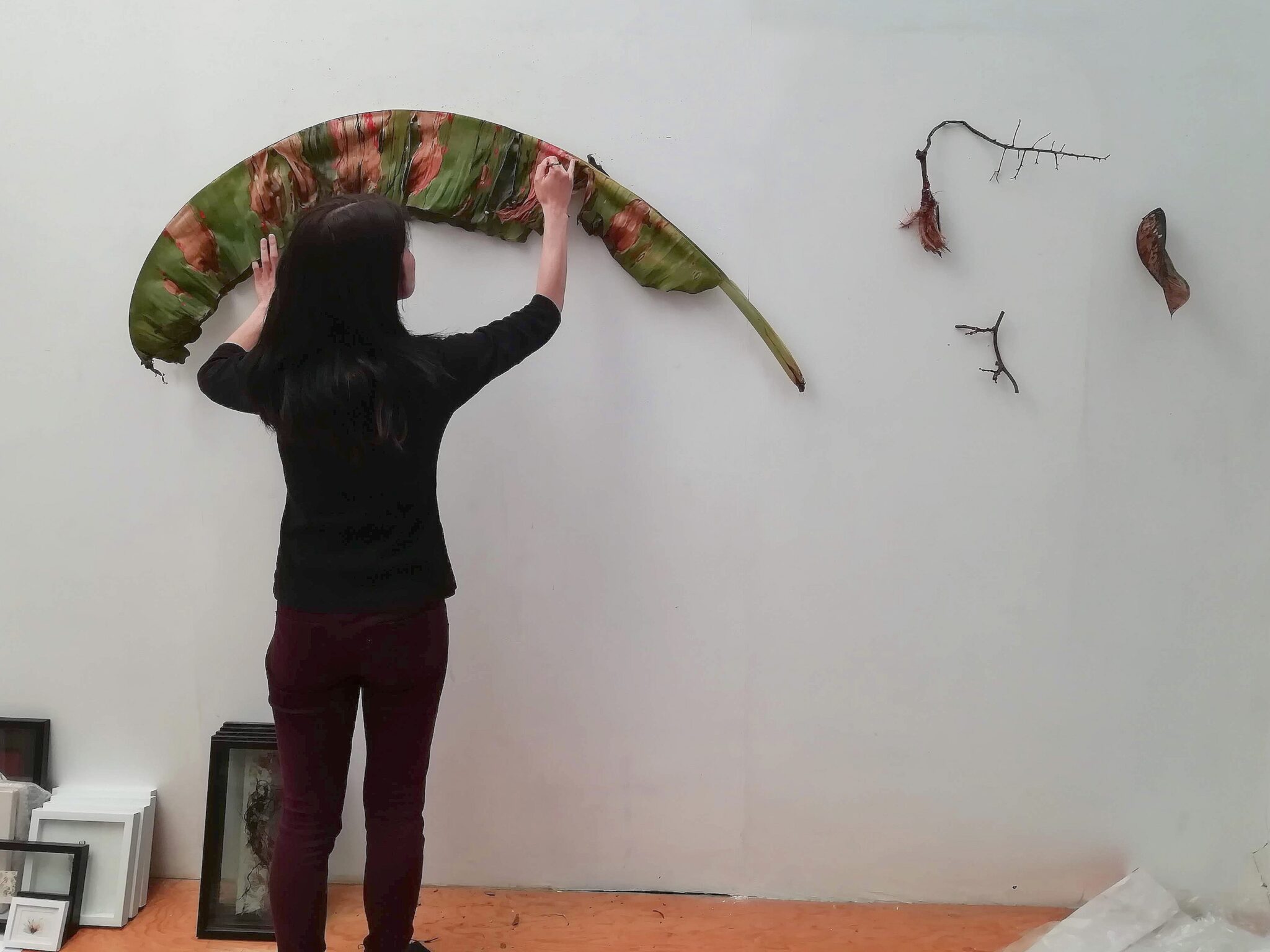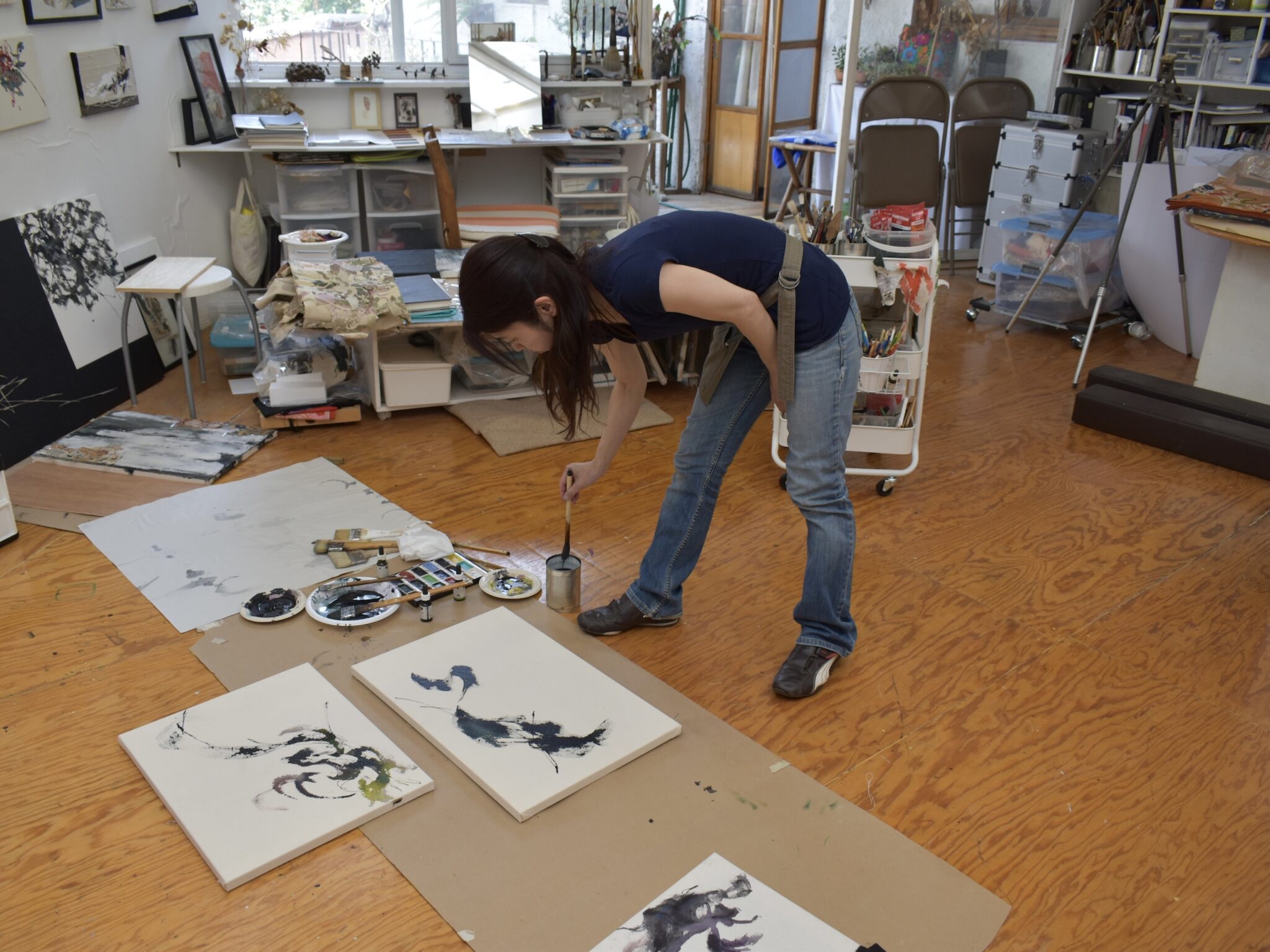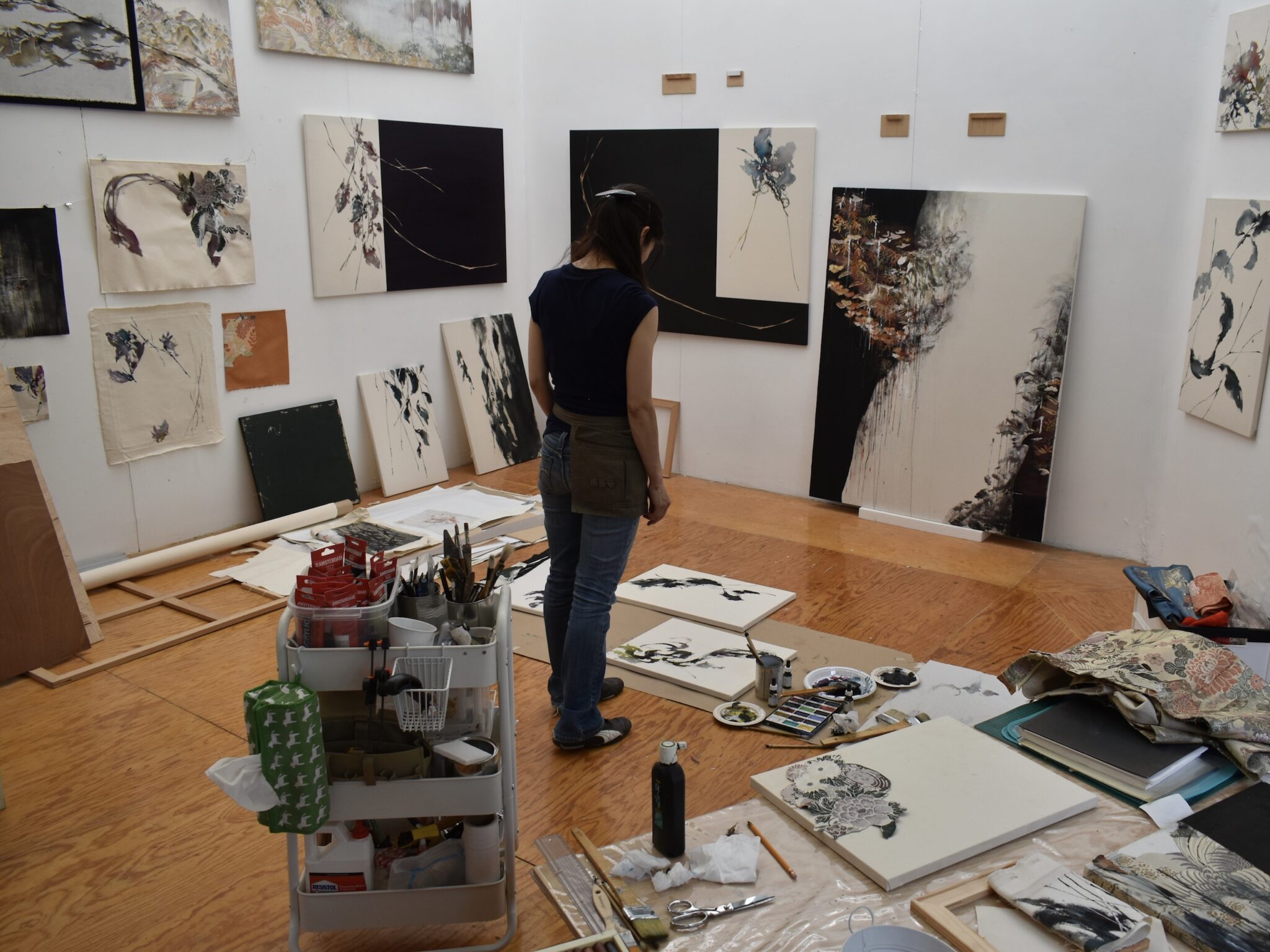 CV
Education
2002-2008: Kunstakademie Düsseldorf, by David Rabinowitch / Germany
2008: Akademiebrief
2007: Meisterschülerin by David Rabinowitch
2005-2008: Guest student by Daniel Buren
1996-98: M.A. in Fine Arts, painting : Graduate school – Kyoto City University of Arts / Japan
1996: Royal College Of Art, London, Award of exchange program / England
1992-96: B.S. in fine Arts, painting :Kyoto City University of Arts / Japan.
Exhibitions
PUBLIC COLLECTION
2008: Carl von Ossietzky University Oldenburg / Germany
SOLO EXHIBITIONS
2023: "憶 REMINISCE" MUZI ART, Taipei / Taiwan
2023: "時を紡ぐ – weave time" HASHI Gallery, Mexico City / Mexico
2022: Raum für Kunst, Düsseldorf / Germany
2019: Casa Mariscal, Mexico City / Mexico
2015: Gallery Niepel bei Morawitz, Düsseldorf / Germany
2012: gallery cornelia kamp, Sylt/ Germany
2011: Gallery Niepel bei Morawitz, Düsseldorf / Germany
2007: Gallery Murata & Friends, Berlin / Germany
2006: Kunsthaus Mettmann e.V., Mettmann / Germany
2006: Gallery Nicols, Düsseldorf / Germany
2006: Gallery Frank Gerlitzki , Luxemburg / Luxemburg
2005: DOROTHEUM, Düsseldorf / Germany
2005: Haus zum Haus, Ratingen / Germany
2005: JANSSEN-CILAG, Neuss / Germany
2004: Forum Wasserturm, Meerbusch / Germany
2003: Dr. Flores , Düsseldorf / Germany
1999: Gallery VEGA , Osaka / Japan
1999: Gallery Haku , Osaka / Japan
1998: D: LOOP , Kyoto / Japan
1997: Fujiya Gallery , Matsuzaka / Japan
1997: Galerie 16 , Kyoto / Japan
GROUP EXHIBITIONS
2023: "Sphere, international salon of contemporary art", JEREZ 2, Mexico City / Mexico
2022: "nomansland academy" Alternative Art space IPO, Seoul / South Korea
2022: "48 Stunden Neuköln" Kunstraum Reuter, Berlin / Germany
2022: Hashi Gallery, Mexico City / Mexico
2022: "HIDDEN_MESSAGES" Gallery Cenzontle, Mexico City / Mexico
2021: "Agua, Fuego, Tierra, Aire, Diversidad" Paraná. / Argentina
2021: "HIDDEN_MESSAGES" AllArtNow, Stockholm / Sweden
2020: "RE: Art against gender violence" UAEM, Toluca / Mexico
2019: "CORAZÓN :PULSO Y RESONANCIA" Extramural Museum, Cozumel / Mexico
2018: "Works of Paper, Works on Paper 2018" CASO-Contemporary Art Space Osaka / Japan
2017: "IROHA" Museum of Art and History of Guanajuato, Guanajuato / Mexico
2017, 2014: "Hacer Ser" CAAI-Incan, Mexico City / Mexico
2017: "Arte Naturaleza" , Botanical Garden in Chapultepec, Mexico City / Mexico
2016 : "Silent Night" espace apart, Diekirch / Luxembourg
2016 : "Silent Night " espace Bateai Lavoir, Paris / France
2014: "Hacer Ser" CAAI-Incan, Mexico City / Mexico
2014: "meXiao" Guangdong Contemporary Art Center, Guangzhou / China
2014: "Artistas que dibujan el aire", Galería Arte Hoy, Mexico City / Mexico
2012: "Obra en construccíon", Casa Virrey de Mendoza, Mexico City / Mexico
2011: "Bus stop project", T.A.C.O. , Mexico City / Mexico
2010: Galerie Bengelsträter, Iserlohn / Germany
2009: "LÍNEAS ENCONTRADAS" , T.A.C.O. / Mexico
2008: Mediaan art award / Germany
2008: 37 Kunst-Herzen für UNICEF", Düsseldorf, Köln, Hamburg and Essen/ Germany
2008: Galerie Bengelsträter, Iserlohn / Germany
2008: "WAHRHEIT IST, WAS UNS VERBINDET", Carl von Ossietzky Oldenburg University, Oldenburg / Germany
2008: Galerie am Platz des Friedens (two-person exhibition), Hanau / Germany
2007:. 2006 Kunsthalle Koblenz / Germany
2005: Gallery cornelia kamp, keitum(sylt) / Germany
2005: Die Drostei, Pinneberg / Germany
2005: Kunstturm Ratingen / Germany
2005: Kunstraum, Düsseldorf / Germany
2005: galerieXprssns (two-person exhibition), Hamburg / Germany
2004: "alteracíon " Casa Frissac, Mexico city/ Mexico
2004: "No.1" Die Kulturmeile an der Ruhrtalstraße, Essen / Germany
2004: Boss Raumgestaltung, Erkelenz / Germany
2004: Airport Gallery, Frankfurt / Germany
2004: City Gallery Kaarst, Kaarst / Germany
2003: Gallery Schwenk (two-person exhibition) Castrop- Rauxel / Germany
2003: "13. Kö Galerie Kunstförderpreis" Kö Galerie, Düsseldorf / Germany
2003: Pavillion der Galerie Brusten Wuppertal (two-person exhibition), Wuppertal / Germany
2000: "Kyoten" Kyoto city Art Museum, Kyoto / Japan
1999: "Compact Disc Exhibition" KAVC, Kobe / Japan
1998: "The 10th Anniversary Abrod Award Exhibition" Shijo Gallery, Kyoto / Japan
1998,97: "Unesco Art Exhibition" Kultur Museum, Kyoto / Japan
1997: "UNDULATION" (two-person exhibition) SONY SOMIDO Hall , Tokyo / Japan
1996: "Japan & Spain Contemporary Artist Exhibition" Madrid / Spain
1996: "Drawing of Today" Shinanobashi Gallery, Osaka / Japan
1995: "TABULA RASA" Shijo Gallery , Kyoto / Japan
1995: "sound/+" (two-person exhibition) , Geidai Gallery, Kyoto / Japan
1995: "be charmed" (two-person exhibition) , Geidai Gallery, Kyoto / Japan
Awards & Residencies
2008: " 1st Prize " Mediaan art award / Germany
2006-2007: fellowship, " Japanese Government Overseas Study Programme for Artists " / Japan
2005: " 1st Prize " 15.th Kö Galerie art award / Germany
2004: " Special prize " Art award for painting 2004 / Germany
2004-2005: fellowship " POLA ART FOUNDATION " / Japan
2000: " Suda Preiz " KYOTEN / Japan
1996: Award of exchange program between Royal College Of Art, London England and Kyoto City University of Art, Kyoto Japan
1996: " Dosokai syoreii Preis " Kyoto City University of Art / Japan